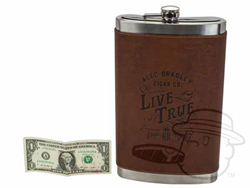 Drums, PA (PRWEB) November 06, 2014
Alec Bradly maker of many of the popular cigar names on the market is now offering for purchase one of the largest production flasks manufactured. The Half Gallon Flask is large enough to hold a full serving of an alcoholic beverage of choice for both an individual and their friends and family in one single container.
The truly gigantic flask is larger than a canteen and is a sure fire way to start a conversation at the party. It also makes a perfect gift for your favorite cigar smoker.
The Flask is made from stainless steel and comes with an attached stainless steel lid and is wrapped with a vegan leather cover for added insulation and a non slip surface. The flask is extremely well made.
Many would consider this the perfect gift for any holiday, birthday or special occasion.
The hip flask began to appear in the form recognized today in the 18th century, initially used by members of the high-born, noble bloodlines but the popularity soared during Prohibition to include everyone trying to enjoy a drink while not openly carrying a bottle of whiskey or whatever their choice of drink.
Today however a flask of this size is more for display and discussion, as well as being the center of the party. Especially if the flask is filled with a choice beverage.
Place an order today for the the Alec Bradley 64 oz Flask.
About Best Cigar Prices:
Best Cigar Prices is the premier online retailer of premium cigars and cigar accessories, offering a wide selection of handmade cigars, machine-made cigars, cigar humidors, lighters, cutters, and more at discount prices. Best Cigar Prices also offers weekly email deals and free bi-monthly catalogs showcasing their latest products, cigar samplers, and specials, as well as customer support 7 days a week.