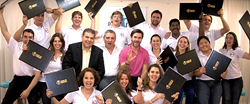 "We are excited and delighted to see how dedicated our international colleagues are. We are ready to help them reach the next milestone in their professional career advancement." Dr. Dimitrios Kostopoulos, co-founder of Hands-On Seminars
Astoria, New York (PRWEB) November 07, 2014
Sao Paulo Brazil is ready to welcome Physical Therapists from around the world who are poised to advance their manual therapy skills by attending the rigorous 8-day Manual Therapy certification program offered by Hands-On Seminars and The Physion Institute. The intensive curriculum that includes coursework, training, practice and competency exams will be completed in a consolidated eight day program, earning the participants their Mastery Certification in Manual Physical Therapy.
No small feat, these students will be completely immersed into a practical and clinical approach to Manual Therapy in an abbreviated format. Dr. Dimitrios Kostopoulos, co-founder of Hands-On Seminars with headquarters in Astoria, NY stated, "We are excited and delighted to see how dedicated our international colleagues are. We are ready to help them reach the next milestone in their professional career advancement."
The Physion Institute, a platinum partner of Hands-On Seminars since 2007, is the largest continuing education organization in Brazil and across Latin America.
They share in Hands-On Seminars' vision to help Physical Therapists attain a high caliber professional status around the world, and through their collaboration with Hand-On Seminars have been able to help deliver the best post-graduate education possible to students like these, giving them a unique opportunity to earn an internationally-recognized diploma in Manual PT while getting to meet and interact with other students from many countries throughout the world.
The Mastery Certification in Manual Therapy (MCMT) program offers students internationally accredited courses to achieve their MCMT diploma.
The coursework for the Accelerated International MCMT program covers all of the content taught in the standard MCMT program broken into six courses- PT-01 through PT-05 and PT-MCMT. "The courses included in the program focus on Myofascial Trigger Point Therapy, Strain- Counter strain, Muscle Energy technique, Manipulation, Neural Mobilization and Proprioceptive training," said Dr. Konstantine Rizopoulos, co-founder of Hands-On Seminars.
Taught by the founders of Hands-On Seminars and creators of the MCMT program, the accelerated program is a challenging undertaking that demands great dedication and focus, but offers students the opportunity for greater savings, flexibility, and time management. Instructors . Dr. Joel Eufrazio, President of Physion remarks, "We are very happy to welcome our international friends and show them some Brazilian hospitality. This year's MCMT program will be the best ever and must not be missed."
The Accelerated International MCMT program is only offered twice a year. Unlike other training seminars and programs that teach one single approach to the treatment of musculoskeletal dysfunction, the MCMT program offers a unique comprehensive approach that integrates the 47 years of clinical experience of Dr. Kostopoulos and Dr. Rizopoulos with some of the teachings of leading manual therapy doctors. For additional information on Hands-On Seminars or the MCMT program, contact Hands-On Seminars co-founder Dr. Dimitrios Kostopoulos Tel: (917) 538-2242 or visit http://www.handsonseminars.com/.
About Hands-On Seminars:
Hands-on Seminars is the leading continuing education organization with a purpose to provide the best quality Manual Therapy seminars at an affordable cost. The instructors' unique teaching methods and use of multimedia presentations exceed industry standards while enhancing students' knowledge assimilation and creating a pleasant learning environment. While they schedule several seminars in the U.S. and around the world, they also give smaller facilities the ability to sponsor one of their courses. The goal of Hands-On Seminars is to provide people with the tools they need to meet the daily challenges of providing quality patient care.
For more information, please visit: HandsOnSeminars.com. Tel: (917) 538-2242