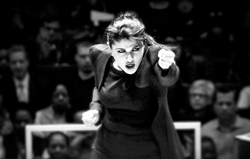 Sylvania, OH (PRWEB) November 06, 2014
Saturday, November 8th at 7:30PM, the Toledo Symphony returns to the Franciscan Center at Lourdes College for the second Mozart & More concert of the season. The concert will open with Estonian composer Arvo Pärt's spellbinding Cantus in Memoriam Benjamin Britten, followed immediately by Benjamin Britten's first published work, Sinfonietta, After intermission, the Toledo Symphony string sections will perform Henry Purcell's Chacony in G minor before the full orchestra closes the program with Joseph Haydn's Symphony No. 92, the "Oxford" symphony.
The musicians of the Toledo Symphony will be joined by guest conductor Alexandra Arrieche. Ms Arrieche began her studies as a vocalist before dedicating her career to conducting and composition. The Brazilian born conductor, is the former Baltimore Symphony Orchestra Assistant Conductor. She had assisted Maestra Marin Alsop at the BSO and São Paulo Symphony Orchestra (Brazil) since 2011 when she won the Taki Concordia Conducting Fellowship.
The concert will include a lecture about the program by Daniel John Carrol beginning at 6:30PM.
For Tickets
Visit the Toledo Symphony Box Office at 1838 Parkwood Ave, Toledo (M-F 9-5), call (419) 246-8000, or click http://www.toledosymphony.com for online purchases. Tickets are also available at the door the evening of the concert. Tickets start at $30.
Student Rush tickets will be available for $5 at the door.
The Toledo Symphony
With roots as early as 1838, the Symphony sees itself as the musical heart of Northwest Ohio, supporting Neighborhood and Regional Concerts, a School of Music and three youth orchestras in addition to traditional concert offerings (Classics, Pops, Family, Mozart & More and Chamber).