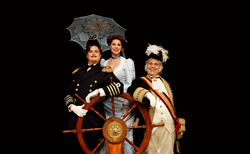 People of all ages will enjoy the music, characters, elaborate stage setting, and costumes.
Knoxville, TN (PRWEB) November 06, 2014
The Knoxville Opera proudly presents two performances of Gilbert & Sullivan's H.M.S. Pinafore on Friday, November 21 at 8:00 p.m. and Sunday, November 23 at 2:30 p.m. at the city's hallmark Tennessee Theatre. Maestro Brian Salesky will host a special opera preview session 45 minutes prior to each performance. The musical comedy is perfect for a family outing or special date and is one of several productions offering cultural and entertaining variety throughout the Knoxville Opera's 37th season.
"This classic comedy is known for its familiar melodies as well as clever wordplay that dares to poke fun at politics and authoritative figures, in a delightfully provocative way," said Knoxville Opera Executive Director Brian Salesky. "People of all ages will enjoy the music, characters, elaborate stage setting, and costumes."
H.M.S. Pinafore, also known as The Lass That Loved a Sailor, was Gilbert and Sullivan's fourth collaboration and their first blockbuster hit. The comic operetta opened in London in 1898 and ran for 571 performances. When it premiered in Boston the following year, one critic wrote, "Going to Pinafore has become a mania." The plot plays out aboard a naval ship and centers on the conflicts of love between people from different social classes. Taking jabs at the British class system, party politics, the Royal Navy, and the ironic rise of unqualified people into authority, even the title injects humor by using the name of the female pinafore garment in reference to the masculine naval warship. The spectacle includes familiar songs such as, "I'm Called Little Buttercup", "The Monarch of the Sea", "When I Was a Lad", and "I am the Captain of the Pinafore."
The musical structure and style of H.M.S. Pinafore have been echoed by many composers and contributed significantly to music history and the development of modern musical theatre. A full plot summary, along with cast bios, can be read here.
Ticket prices begin at $18 and can be purchased here or by visiting KnoxvilleOpera.com. To speak with a Knoxville Opera representative, call 865-524-0795 x28.
________________________________________
About Knoxville Opera – Knoxville Opera's mission is to provide the residents of East Tennessee with high quality, locally produced operas and to contribute to the future of the operatic art form by educating the community about opera and its role in our culture. Knoxville Opera, founded in 1978, is a non-profit 501(c)(3) organization presenting productions made possible, in part, by generous funding from our patrons: The Aslan Foundation, the Tennessee Arts Commission, Regal Entertainment Group, Knox County, The Cole Foundation, the City of Knoxville, the Arts and Heritage Fund, Pilot Flying J, DV Communications, Home Federal Bank, Comcast, and the National Endowment for the Arts.
# # #