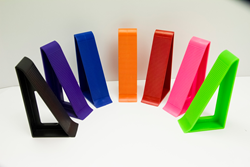 J Wedge will be donating $2 to the Kansas Food Bank for every J Wedge sold in November.
(PRWEB) November 06, 2014
The Kansas Food Bank first opened its doors in 1984. Originally partnering with 16 agencies and serving one county, the organization has expanded to provide assistance in 85 counties and currently partners with more than 200 agencies to distribute food to Kansan families. They serve 215,300 people annually, 68,900 of which are children.
Throughout the month of November, J Wedge will be donating $2 to the Kansas Food Bank for every J Wedge sold. The donations will go toward programs such as Food 4 Kids and Bob Box. These programs support underprivileged children and seniors, respectively. You can help by purchasing a J Wedge for $19.95 online. The J Wedge comes in seven different, fun colors. Convenient carrying bags are also available for an additional fee.
Developed by runner Mike Janzen and physical therapist Carolyn Janzen, the J Wedge was a creation of necessity. Mike, who had participated in various races ranging from one mile to marathons, developed a severe case of plantar fasciitis. Though he tried all of the mainstream treatments, including ice, massage, night splints and custom orthotics, none alleviated his pain. Therefore, the two decided to focus on stretching the fascia itself, and the J Wedge was created.
Using the J Wedge three times per day can effectively treat heel pain caused by plantar fasciitis and eliminate recurrence too. Furthermore, stretching with this revolutionary tool takes less than one minute.
About J Wedge
If you are currently suffering from plantar fasciitis/heel pain and want to live free of discomfort, please visit http://www.jwedge.com. The J Wedge was developed in Wichita, Kansas by a runner and physical therapist after mainstream treatments for plantar fasciitis/heel pain failed to alleviate the runner's symptoms. A patented product, the J Wedge is designed and manufactured in the USA.