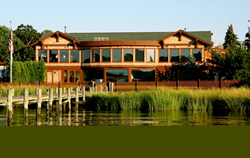 Rumson, New Jersey (PRWEB) November 06, 2014
The holidays are quickly approaching and guests are eager to reserve a room for their holiday parties at the Salt Creek Grille. With locations in California and New Jersey, the restaurant and bar specializes in special events as well as offering an exquisite fine dining experience. Regional Operations Partner of the Salt Creek Grille, Steve Bidgood describes what to expect when visiting the restaurant.
As co-owner of parent company, Benchmark Enterprises, Inc., Bidgood is very familiar with the restaurant industry. The eatery became the second restaurant in the company after opening in 1998, following the Dana Point, California location. "Our concept is very unique and not many people do it," said Bidgood. "We opened with a bang because people wanted to know about us." Other locations include: El Segundo, California; Valencia, California; and Princeton, New Jersey.
Although each restaurant appeals to a different crowd, Bidgood promises a consistent menu and friendly staff. "Rumson is very suburbia so we are open for parties and dinner. In Princeton, the restaurant is surrounded by businesses so we are open for lunch and hold a lot of corporate events," said Bidgood. "You have to look at each location to decide how to cater to your guests." Their impressive menu attracts guests as well, featuring the finest homemade dishes. "All the restaurants do very well," said Bidgood. "We're having a great year!"
Selecting the staff is also something that Bidgood takes very seriously believing that a hard work ethic and a smile go a long way. "I try to hire people that like to be around people," said Bidgood. "I can train people to bartend and wait tables but I can't teach them how to smile. If you don't like people you better not be in the restaurant industry."
Along with managing six businesses, Bidgood also spends much of his time attending events and fundraisers. "We are very community minded," said Bidgood. "We do very little advertising because we attend a lot of events and get the word out about Salt Creek Grille that way." Much of the company's focus in the upcoming year will be in supporting the non-profit organization, Kortney Rose Foundation.
Known for their lavish facilities, the Salt Creek Grille's private banquet hall accommodates up to 150 guests. Also available are catering, valet parking, professional event coordination, custom menu planning, and handicap accessibility. Party-goers may have access to the outdoor area overlooking the water for events such as weddings, receptions, bridal and baby showers, anniversary parties, corporate dinners and more. Guests are also invited to visit the restaurant during the month of December for a spectacular Christmas lights display.
Salt Creek Grille, located at 20 Bingham Avenue in Rumson, New Jersey is open for dinner and drinks. Doors open at 4:00 pm and close at 10:00 pm seven days a week. Brunch is available on Sundays from 10:30 am until 2:00 pm. Daily drink specials include: half price wine bottles on Mondays; half price draft beer on Tuesdays; half price wine by the glass on Wednesdays; and
half price martinis on Thursdays. Happy Hour is from 4:00 pm to 6:30 pm Monday through Friday. To make a reservation or purchase tickets for an upcoming event, visit their website at http://www.saltcreekgrille.com/home/index.asp or call 732.933.9272.
About Bielat Santore & Company
Bielat Santore & Company is an established commercial real estate firm. The company's expertise lies chiefly within the restaurant and hospitality industry, specializing in the sale of restaurants and other food and beverage real estate businesses. Since 1978, the principals of Bielat Santore & Company, Barry Bielat and Richard Santore, have sold more restaurants and similar type properties in New Jersey than any other real estate company. Furthermore, the firm has secured in excess of $500,000,000 in financing to facilitate these transactions. Visit the company's website, http://www.123bsc.com for the latest in new listings, property searches, available land, market data, financing trends, RSS feeds, press releases and more.