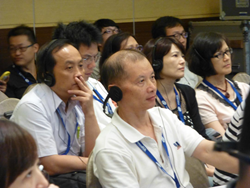 Pharmacists should attend more of these meetings to improve their services to their customers and value to their community.
Atlanta, Georgia (PRWEB) November 07, 2014
Innovaacom is pleased to announce the recent expansion of its community pharmacist continuing education training programs into Asia to better serve global demand for advanced learning in disease trends and treatments. The programs held in Malaysia and Taiwan focused on the positive impact pharmacists can have on health outcomes for an epidemic number of patients suffering from overweight, diabetic and cardiovascular conditions. According to the CDC, even though 1.7 million new cases of diabetes are being diagnosed each year in the U.S., 25% of patients remain undiagnosed and at risk.
"Pharmacists should attend more of these meetings to improve their services to their customers and value to their community," said attendee Ong Tenk Aik. To date, more than 1600 pharmacists from 22 countries have attended pharmacist continuing education programs organized by Innovaacom to learn turn-key approaches to creating customer-friendly pharmacies that are not just outlets for dispensing drugs but are centers for wellness and early disease detection and prevention.
Research shows patients visit their pharmacist up to five times more frequently than their physicians making the pharmacist's responsibility in screening, interpreting, and providing disease-related information and recommendations to patients with chronic conditions vital. Innovaacom organized the pharmacy training program that readies pharmacists for their changing role in patient care and collaborative medicine. Additional data shared during the conference reported that as many as 50% of patients with chronic conditions are not taking their prescribed medications properly as reported in the BMJ Safety and Quality Journal and are not succeeding in making lifestyle changes that could help their condition such as weight loss, smoking cessation or regular exercise routines.
The pharmacy conference was delivered by a panel of international and regional experts and highlighted how pharmacists can contribute to the early detection and patient self-management of diabetes, hypertension, and other chronic conditions. The experts shared actual case studies and best practices for optimizing treatment goals along with strategies to identify and empathize with patients with chronic conditions. Pharmacists also received practical tools on how to design pharmacy services and conduct motivational interviews with patients to educate them on the importance of lifestyle changes, the proper use of prescription drugs, and ways to cope with heart disease, obesity and diabetes.
Satisfaction surveys from the program organized by Innovaacom showed that 90% of the pharmacists rated the conference content and relevance to their practice as very good or excellent and 91% reported higher confidence in their ability to have conversations about chronic conditions with their customers. Innovaacom began offering training programs for community pharmacists in 2009 and continues to expand this service internationally. For more information, visit http://www.innovaacom.com/about-us/who-we-are/.
About Innovaacom, L.L.C.
Founded in 2007, Innovaacom is a global agency providing medical education and training for healthcare professionals worldwide that applies globally and empowers locally. Innovaacom courses combine science with leadership and communications skills training that helps translate the latest scientific and medical innovation into real clinical practice. Program design and delivery includes CME and non-CME training programs for physicians and community pharmacists that enhance the quality of scientific exchange to advance science and medicine. For more information, visit http://www.innovaacom.com.