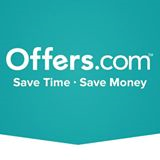 Consumers are looking for coupons and deals more than ever, and they're finding the best offers online
Austin, Texas (PRWEB) November 20, 2014
More than one-third of Americans plan to shop online on November 28, according to a survey by IPSOS on behalf of Offers.com. Of those shopping on this day, nearly three-quarters plan to shop online. Discounts always have driven holiday spending, but consumers are changing the game by turning to the Internet to shop and find the best deals.
The Christmas shopping season ramps up the saving game, and therefore, the spending game. According to the survey, nearly 90% of online shoppers will look for coupons and sales online before making a purchase this season.
"Consumers are looking for coupons and deals more than ever, and they're finding the best offers online," said Offers.com Vice President Howard Schaffer. "Our data confirms the Monday after Thanksgiving will be the number one online shopping day, with Black Friday a close second and Thanksgiving growing by leaps and bounds."
Black Friday Shopping Trends
Compared to November 27 and December 1, November 28 remains the most popular shopping day in the United States, with 53% of the adult population saying they plan to shop this day.

This year, 20% plan to shop primarily online on November 28.
This year, 15% plan to shop primarily in stores, and an additional 18% plan to shop both online and in stores.
Thanksgiving Shopping Trends
Over the past few years, many stores have extended their holiday shopping hours into Thanksgiving, which favors the 49% of U.S. consumers who plan to shop that day. Despite this trend, more people plan to shop online than in-store on Thanksgiving.
This year, 16% will shop primarily online on Thanksgiving.
An additional 20% will shop both online and in stores, and 13% will shop primarily in stores.
Cyber Monday Shopping Trends
Compared to Thanksgiving and the Friday after, Cyber Monday is the most popular holiday for online shopping. Nearly half (47%) of Americans plan to shop online on this day.
Though 61% of people with children in the household plan to shop online, only 41% of those without children plan to shop online on December 1.
Millennials will shop online more than any other age group on December 1. Nearly 60% of those aged 18 to 34 plan to shop online that day.
Mobile Shopping Trends
As more consumers turn to the Internet to fulfill their holiday shopping needs, mobile use is becoming more prominent. About 44% of U.S. consumers plan to use their mobile devices when holiday shopping.
Millennials are leading this trend. Of those aged 18 to 34, 69% plan to use their phones when holiday shopping.
Nearly one-third (30%) of Americans will use their mobile phones to look for coupons and deals when holiday shopping. This trumps the number of mobile users who say that they will use it for other activities, such as making purchases (19%), checking product reviews (22%), and comparing products at different stores (24%).
For the remainder of Offers.com's 2014 Holiday Shopping Survey results, visit: http://www.offers.com/press/release/2014-survey/
To find the best coupons, deals and sales, visit the Offers.com 2014 Holiday Savings Centers:
Offers.com/Thanksgiving-sales/
Offers.com/Christmas/
About Offers.com
Offers.com is a leading online destination for consumers to save time and money. Each day we serve up the top coupon codes, product deals, and other offers from more than 6,000 stores and brands. Offers.com has about 50,000 of the best offers in 300 categories, including clothing, electronics, household goods, and credit cards. Offers are verified and updated daily by the Offers.com deal experts and community. The company, founded in 2009, is based in Austin, Texas.
About the Survey
These are some of the findings of an Ipsos poll conducted on behalf of Offers.com from Oct. 13 to Oct. 14, 2014. For the survey, a national sample of 1,007 adults from Ipsos' U.S. online panel was interviewed online. Weighting was then employed to balance demographics and ensure the sample's composition reflects that of the U.S. adult population according to Census data and to provide results intended to approximate the sample universe.
###