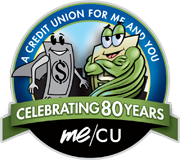 Oklahoma City, Oklahoma (PRWEB) November 06, 2014
Me/CU, an Oklahoma City based Credit Union, celebrates 80 years of financial services to Oklahoma residents. The Municipal Employees Credit Union of Oklahoma City has served the Oklahoma area since 1934 and has over 12,000 members.
Me/CU is featuring specials on the following products:

New auto loans as low as 3.99% APR
Used auto loans as low as 3.50% APR
Visa Platinum Credit Cards as low as 8.99% APR
These specials are only available for a limited time and Me/CU urges customers to take advantage of this opportunity. Members of Me/CU also are able to benefit from the following services:
24-Hour automated teller service
Direct deposit
Overdraft protection
Entertainment discounts
Safe deposit boxes
Route 66 comprehensive vehicle warranties
More information can be found at the Me/CU website.
About ME/CU:
Me/CU was established in 1934 by city employees in the basement of the old Oklahoma City Civic Center building. Today, the Oklahoma City credit union has grown to 4 branches and is now open to everyone who lives, works, or worships in our area for membership. We have over 12,000 members, and last year our asset size grew to over 130 million dollars. We are a not-for-profit organization that is owned by its members rather than a group of stockholders. Our board of directors is a group of volunteers that are elected by our members.
Please call Me/CU for any questions at (405)813-5564 (North Oklahoma City Office)