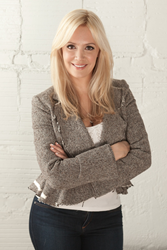 This step-by-step guide offers the latest beauty and wellness treatments that will transform women for the holiday season.
(PRWEB) November 06, 2014
Holly CaSaroll, the founder and "skin guru" of FACE, an award-winning skin clinic, has launched its winter campaign on "How to Be a Perfect 10 by the Holidays," by featuring a step-by-step guide to the latest beauty and wellness treatments that will transform women for the holiday season.
1. FACE is the first to bring to the public the Oxygeneo facial treatment. Oxygeneo is a revolutionary treatment that resurfaces the skin without chemicals, while simultaneously stimulating collagen, and creating oxygen deep within the tissue. Great in a 30-minute session, for most skin conditions and all ethnicities.
2. The VIVA is a Nano fractional laser that helps to repair scars, smooth lines and wrinkles, and even has a slight effect on the skin's firmness. This is also accomplished with little to no downtime.
3. Individuals looking to refine their pores and decrease redness can rely on the comfortable Genesis Laser.
4. Lift brows without surgery with the highly reputable Ultherapy treatment, which is also the only FDA-cleared device, and facelift alternative to physically lift the brow, jowl, and neck without downtime.
5. No matter how much someone wants to refine their skin, they need to still replace lost volume, and that is why at step five, Voluma Filler, is used to restore volume in the cheeks for up to two years.
6. Expression lines also need to be addressed with Botox or an alternative like Xeomin. "Beyond skin's texture, and loss of volume, we need to address our expression lines in the upper face which come from the level of the muscle," says CaSaroll. "That way the muscle isn't creating lines, which will break down the collagen again after it is already rebuilt."
7. What good is it if skin doesn't have a glow? CaSaroll created the 3D Face Therapy™ to transform the skin from a cellular level in just an hour. Customized resurfacing, oxygen, and a Medical Light Therapy stimulate the fibroblast cells, which stimulate collagen.
8. Beauty is not just with the skin, but comes from within, so women can prevent aging from the inside out. Detox with a colon hydrotherapy session, as 80% of a person's immune system is in the gut. Detoxification can greatly improve the appearance of the skin.
9. Consider an Infrared Wrap, which will help detox further, and lose inches and excess weight.
10. To finish with a bang, get a Wellness Checkup, as performed for renowned Naturopathic Physician, Dr. Doug Cutler, of Cutler Integrative Medicine (partner of FACE). This hour long patient visit will go beyond symptoms to address health at the root cause.
To learn more about these advanced treatments and schedule a consultation, please call 248-663-0161.
About FACE Skincare~Medical~Wellness:
FACE is a multi-award winning beauty and wellness clinic that has been providing successful innovative solutions to skin conditions for over a decade. Founded by skin expert, Holly CaSaroll, FACE offers 24 laser and facial machines, liquid facelifts and body makeovers. Over 17 years ago, CaSaroll rebuilt her own skin, disfigured from cystic acne, and has since created one of the most extensive clinics around. CaSaroll is a go-to skin guru and has been featured on TV and a bevy of publications. She currently pens a monthly column in "My Magazine," titled "Ask the Expert." Their Skin Management Experts™ specialize in non-invasive therapies using their unique 3D Face Therapy™ approach to healing skin that accelerates results from a cellular level. Her wellness division, headed by Dr. Doug Cutler, a Licensed Naturopathic Physician, finds the root cause of imbalances in the body to create overall well-being from the inside out. To see what FACE can do for you, please visit http://www.facebeautyscience.com/.