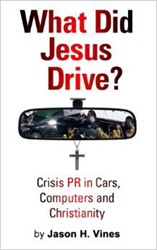 "This is a book about my life in the public relations blast furnace in the automotive industry..." - Jason Vines
Howell, MI (PRWEB) November 06, 2014
Blue Frog Books is pleased to announce a book-signing event Tuesday, November 11th at 6:00 - 8:00 pm with "Auto Industry Insider," Jason Vines.
With a release date of November 10th, author Jason Vines is excited to share his new title, "What Did Jesus Drive: Crisis PR in Cars, Computers and Christianity." Get the insider truth regarding the intentional and unintentional cover-ups made by the big boys in Detroit straight from the man who was the first call for many of the industry's leaders. Be prepared to buckle up and enjoy this ride!
Jason Vines is one of the most out-spoken and brutally frank Public Relations chiefs in the history of the Automobile Industry. Jason takes readers on a graphic behind-the-scenes romp through some of the most publicized and studied crises in recent history. His humor and his unique take on the situations he was involved in makes his account riveting. The book also features unique photos, some of which have never been seen by the public.
Endorsement from Lee Lacocca. "Jason's story telling is his honest account of time well spent in a career documenting numerous pivotal events we all want to hear about."
Endorsement from Autoweek Publisher Dutch Mandel. "Jason Vines lived The Hurt Locker, defusing one public relations I.E.D. after another. To think some of the largest corporations we can name have been this close to pure PR disaster, and yet were saved by the insight Jason earned from decades of corporate cage fights, it is truly amazing. What Did Jesus Drive is a deep dive into the bowels of business, and it shares stories long known by a select few, or whispered in hallways outside war rooms. This must become a college textbook for PR professionals as it maps their futures. Jason delivers these stories, and his pearls of wisdom, with the wit and humor that makes him someone to whom we must all listen."
Endorsement from Dr. Ricardo Martinez, MD, FACEP and former Administrator of the National Highway Safety Administration (NHTSA). "I always knew I could count on Jason for an unbiased and honest opinion."
When asked about the book, Vines was quoted saying, "This is a book about my life in the public relations blast furnace in the automotive industry; a quickly-derailed attempt to help a friend rebuild Detroit's tattered image, thwarted by the sex, lies and corruption of former Mayor Kwame Kilpatrick; and, finally, trying to avoid another crisis with the number one selling book of all time; the Bible."
The crises Vines helped navigate through made headlines the world over: Jeep vehicles accused of deadly sudden unintended acceleration, Nissan's near-death experience until it regained its MOJO, the Ford/Firestone tire mega-debacle, Detroit Mayor Kilpatrick's drive to prison and finally avoiding a boycott of the most popular Bible in the world by evangelical Christian leaders. In his final chapter, titled "Government Motors on Fire," Vines tackles the fake Chevy Volt fire crisis and General Motors' 2014 nightmare with its faulty ignition switches that led to at least 24 deaths – and counting - and may lead to criminal indictments.
Vines shares lessons learned and mistakes made. He notes that if he can impart anything in this book, it is the guiding principles he believes useful for any organization (not just the auto industry) or individual to avoid, mitigate or survive the inevitable crisis. As he puts it: "If you think you are immune to a crisis, you have already failed an overarching guiding principle."
ISBN: 9781631731099 Click link to see more.