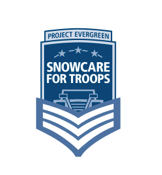 Cleveland, Ohio (PRWEB) November 06, 2014
In recognition of Veteran's Day, non-profit Project EverGreen's SnowCare for Troops (SCFT) campaign is expanding to serve wounded and disabled veterans. The campaign, underwritten by BOSS Snowplow, has served thousands of active-duty military families in deployment. Beginning Nov. 11, eligible veterans can also sign up for the free snow removal service managed by Project EverGreen.
SCFT brings together volunteers with military families and veterans who can receive free snow removal services through a national volunteer network that includes many snow and ice management and landscaping professionals. Any honorably discharged veteran qualifies for SCFT regardless of when their disability occurred, whether during their deployment or after their service period. For eligible wounded or disabled veterans, snow removal services will be provided for a 9-12 month period once the match is made. Active-duty military members are eligible during deployments. Registrations for wounded or disabled veterans will be available beginning Nov. 11, 2014.
Through SCFT and sister program, GreenCare for Troops, these passionate volunteers have provided help on the home front for over a decade. The programs were recognized by Michelle Obama's Joining Forces challenge in 2012 for their outstanding support of America's troops.
"Worrying about removing snow and ice from driveways and sidewalks can be a huge burden for any family, especially those with a loved one deployed, or for disabled veterans who have bravely served their country," says Cindy Code, executive director of Project Evergreen. "With the expansion of this important service program, we want to encourage participation from both the military community and volunteers as we head into the snowy winter months."
According to the U.S. Department of Veterans Affairs, in 2012 there were over 3.6 million veterans with a service-connected disability, an increase of 60 percent since 1990. An estimated 160,000 active-duty military currently serve outside the U.S., with about 1.4 million serving in all branches of the armed forces.*
"That kind of whole-hearted dedication deserves our whole-hearted support," said Mark Klossner, marketing director for BOSS Snowplow. "The members of the U.S. military comprise the most amazing fighting force on the planet. Let's support our heroes as we honor them this fall."
In addition to volunteer participation, donations of money or gas cards, as well as loans of snow removal equipment to volunteers and community groups are also welcome.
To learn more about Project EverGreen's SnowCare for Troops visit the organization's online registration page.
# # #
About Project EverGreen
Project EverGreen is committed to informing the American public about the positive effects of well-maintained green spaces, including lawns and landscapes, sports turf, golf courses, trees and parks. A 501c3 non-profit organization, Project EverGreen's mission is to preserve and enhance green space in our communities where we live, work and play.
About BOSS Snowplow
Since 1985 BOSS Snowplow has made snowplowing efficient and easy with innovative products that set new industry standards for quality, reliability, craftsmanship and performance. All BOSS Snowplows are designed, built and put to the ultimate performance test in Michigan's rugged Upper Peninsula, where winters — and deep snow — are a way of life.
THE BOSS snow-removal products and accessories are manufactured in an approved ISO 9001:2008 registered facility and are available to professionals and homeowners through the company's nationwide network of distributors. For more information on BOSS Snowplow call 800-286-4155 or visit the company's website at bossplow.com.

U.S. Department of Defense statistics