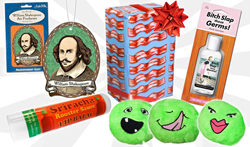 Give a special someone a toilet seat cover, two antiseptic wipes, and a pair of disposable gloves this holiday season.
Los Angeles, CA (PRWEB) November 10, 2014
The Stupid.com team loves being stupid, saving money, and making others happy. The Stupid team especially loves it when they can do all three at the same time with the help of their novelty gifts. Thus, they created this list of 10 funny Christmas gifts that are sure to make holiday shopping a breeze this year.
Sriracha Lip Balm - $3.95
This stocking stuffer is the perfect gift for that friend who puts Sriracha on everything no matter where they are. Plus with SPF 15, one can feel the burn without actually getting burned.
Bacon Gift Wrap - $3.99
Bacon – God's gift to the world. Bacon gift wrap – Stupid.com's gift to the world. Ordinary items no longer have to be jealous of hot dogs. They can be bacon-wrapped too!
Bonking Booger Balls - $4.95
The Stupid crew has been flicking boogers since they could crawl. The only problem is that boogers eventually decompose, disappear, and get thrown in the trash. To fix this problem, they created these Booger Balls. Green, squishy, and loud - these boogers are here to stay.
Secret Squirting Toilet - $4.95
This miniature toilet is not just another paperweight. It is the only paperweight that will make people laugh and get squirted on all at the same time. Easily refillable, this is one of many gifts that Stupid.com has this holiday season.
Grow Snow - $4.95
Being based in LA, the Stupid team loves this stocking stuffer for bringing them the one present Santa never could, snow. Just add water and watch the magic unfold.
William Shakespeare Air Freshener - $4.95
Give someone fresh air and the most popular British man of the 16th century. This is the ideal gift for teachers, parents, librarians, and pretty much anyone who has ever spilled food in the car.
Mustache Bandages - $6.95
Ever wanted to grow a mustache but couldn't? These bandages are the hairiest and hippest of all the weird gifts on this list. They will most certainly put a smile (and a mustache) on anyone who wears them.
B**** Slap those Germs Hand Sanitizer $7.95
This funny gift is for the ultimate germaphobe. Both the germaphobe and hand sanitizer tell it exactly how it is. Cold, flu, Ebola - slap them all away with this travel sized hand sanitizer.
Public Toilet Survival Kit - $7.95
Not only does this stocking stuffer easily fit in a stocking, but it also comfortably fits in most purses and back pockets. Give a special someone a toilet seat cover, two antiseptic wipes, and a pair of disposable gloves this holiday season.
Grump Notebooks $8.95
Use this gift to passive aggressively tell that one really whine-y friend to shut it, or at least to write it all down. With 3 notebooks, that friend can joyously write away their complaints.
Stupid.com has been spreading laughs – one wacky gift at a time – since its burst onto the online retail scene in 1998. From gag gifts and stocking stuffers to redneck gifts and novelty items, the online retailer offers over 4,000 wonderful products and 150 gift categories that will surely brighten up any event.