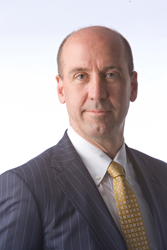 If you're not thinking about the future of your company, who exactly is?
New York, NY (PRWEB) November 06, 2014
Déjà vu, the French word meaning "already seen,'' is better known as the phenomenon of having the strong sensation that a current event has been experienced in the past. The comedian George Carlin, however, defined vuja de as "the strange feeling that, somehow, this has never happened before." In his entertaining, energetic and educational keynote presentation, renowned global futurist Jack Uldrich will use CAS's centennial celebration—and the past 100 years of history—to guide CAS members into the future. Paradoxically, he will then use history to explain why yesterday and yesteryear won't be a reliable guide to tomorrow. Uldrich will also present a concurrent session called "How to Think Like a Futurist."
"No one can predict the future," says Uldrich, "but I do try to help my audiences prepare for it." Jack Uldrich is a leading futurist, author, and speaker who helps organizations gain the critical foresight they need to create a successful future. His work is based on the transformational principles of unlearning– or freeing yourself from obsolete knowledge and assumptions – as a strategy to survive and thrive in an era of unparalleled change.
Uldrich goes on to say, "One of the key components of success is embracing paradox: learning to unlearn, and thinking about the unthinkable. If I can get people to take more time out to think and reflect, I consider that a good day's work. We need to start opening our minds to the exponential technological changes that are taking place, and we need to change the way we think about them if we're going to jump the curve."
In addition to discussing future trends and unlearning Uldrich also speaks on change management. One of the many techniques Uldrich shares with his clients is the concept of holding 'pre-mortems' on a regular basis. "Taking the time to imagine what business will look like before a company dies is a powerful way to circumvent the mistakes that may lead to it's demise," says Uldrich. "Or better yet, reflect that company is already gone and ask the hard questions--what trends were harmful to the company? What didn't we see coming? By asking tough questions like these, serious pitfalls may be avoided and companies may just discover some fascinating areas to innovate into. I encourage clients to do this once a year. Because if you're not thinking about the future of your company, who exactly is?"
Uldrich travels the world painting vivid pictures of what the world may look like in just a few short years for clients like ABB, Emerson, Cargill, and IBM. He provides an in-depth exploration of how the "Internet of Things," "Big Data," social media, robotics, biotechnology, nanotechnology, artificial intelligence, renewable energy and "collaborative consumption" will change everyday life for all of us in the very near future and he enjoys every minute of it.
Parties interested in learning more about Jack Uldrich, his books, his daily blog or his speaking availability are encouraged to visit his website. Media wishing to know more about either the event or interviewing Jack as a futurist can contact Amy Tomczyk at (651) 343.0660.