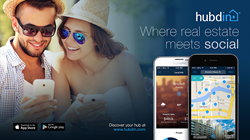 Miami, FL (PRWEB) November 07, 2014
Hubdin®, a real estate technology company incorporating social, behavioral, and local data to provide a personalized home search experience, has released an updated website and mobile app building on its innovative approach to home searching.
Hubdin works among desktop, mobile, and now tablet platforms allowing users to create a profile through Facebook. Users complete their profile by identifying their target neighborhood and the type of home they're searching for and Hubdin creates a "hub" for each user by identifying the best neighborhoods based on their top preferences, and calculating a unique HubGrade score. The discover feature helps users get a feel for the neighborhood through the interactive map that highlights nearby popular attractions, places to eat, and local schools. Users can click on the street view of the home and calculate their commute time to work from their perspective home, providing ability to favorite their home findings through their profile's dashboard.
Hubdin's recently updated features include a mortgage calculator, which allows home seekers to view their estimated mortgage payment. Home seekers can also easily connect with a "neighborhood expert", a Realtor, to schedule home viewings in the area and get insight on local neighborhood events. Renters searching for homes with roommates can also tag their favorite places and then share with connections, using the tagging tool.
The recently updated website has features that benefit the needs of real estate professionals as well. The site has a dedicated Realtor Tools section, which allows Realtors to create a profile of their business, complete with open house listings, and personal contact information; giving Realtors more exposure to eager leads. Updated features allow real estate agents to appear in an agent directory and get listed as Hubdin Pro Agents, allowing Realtors to stay connected to their leads with immediate SMS and email alerts that can be checked on mobile or tablet devices. Hubdin's built-in CRM tool allows agents to store their leads to nurture and build their relationship with potential home buyers and renters.
"Today personalization is at the center of online activity, Hubdin focuses on making real estate social by allowing the sorting of neighborhoods based on social preferences, giving home seekers the neighborhood perspective with each search," said Hubdin's founder Adrian Esquivel. "Our RelocateMe application is a user and real estate agent favorite as it integrates all your preferences, like your occupation, safety and school priority, places you frequent, local hangouts, and favorite type of restaurants, and then provides a list of top 10 cities across the country that best meet your neighborhood and lifestyle needs," adds Esquivel.
The site includes active listings from more than 400 MLS listing services across the country. The database is updated several times per day, ensuring the most up-to-date listing information.
Users can find their perfect hub, or help clients find theirs by visiting http://www.hubdin.com.
About Hubdin®
Developed by Miami-based TECKpert, Hubdin® is the first and only place where you can find the right neighborhood and city to live in by personalizing home search results. Hubdin's mission is to represent a change in how real estate is searched online and deliver a fun personalized experience for home seekers that will help them find the best location based on what's important to them.