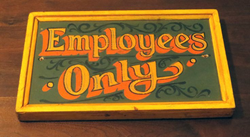 Positions that require employees to be bonded include those that require employees to handle cash ...
(PRWEB) November 06, 2014
Let's start with the good news – with no criminal record, being bonded as part of an employment requirement should be no problem. This pre-employment screening question is used to rule out potential employees with convictions, specifically for theft and fraud. Insurance companies believe this information helps them to determine if employees are likely to steal or conduct any other wrongful acts against a company. In the event of loss relating to a bonded employee, the company is insured for the value of the loss.
Positions that require employees to be bonded include those that require employees to handle cash or valuable company information, credit card or banking information, access to homes or company premises, as well as customer service positions.
Here are the steps you need to take to make sure a criminal record will not prevent you from being bonded and gainfully employed.
1. Start off with a Criminal Record Check, which will require fingerprinting.
2. Note that as of July 1, 2014, electronic finger prints are required as part of a Criminal Record Check.
3. Apply for a Record Suspension. This granted by the Parole Board of Canada (PBC) but it involves a lot of paperwork.
4. Get professional help with the Record Suspension application process since approximately 40% o f applications are rejected for review by the PBC, as shown in a graph of their latest statistics.
5. If the PBC replies to your Record Suspension application with a Proposal to Deny, take the time to write a thorough response addressing their concerns and documenting how your behavior has changed since your conviction.
6. If you have an offer of employment pending, ask the professional that is working on a Record Suspension on your behalf, to provide a letter to confirm your application is in process. Employers may consider this favourably in their hiring decision.
7. Ensure that your record has been sealed from the Canadian Police Information Centre (CPIC).
8. When your record has been suspended by the PBC and sealed from CPIC, when anyone asks if you have a criminal record, you can say "no" since a criminal record no longer exists for you.
9. Choose a well-established and Better Business Bureau accredited company to handle your confidential documents and see your application through to completion. It can be a lengthy process and it's best to have a relationship with a company with a long track record.
10. Keep being the law abiding citizen you have become since your conviction.
For more information on Criminal Record Checks, Fingerprinting and Record Suspensions, speak to a Client Advisor at Pardon Services Canada by calling 1.866.972.7366 or visiting the website RemoveYourRecord.com.
About Pardon Services Canada
An industry leader in helping individuals overcome the obstacles of a criminal record. Since 1989, Pardon Services Canada has successfully assisted over 100,000 Canadians exercise their lawful rights under the Criminal Records Act of Canada, and the Immigration and Nationality Act of the United States. Services include US Entry Waivers, Record Suspensions (formerly called pardons), and fingerprinting. Now also assisting Americans enter Canada with Temporary Resident Permits and Criminal Rehabilitation Status. To get started, call toll free 1-866-972-7366 or visit the website Pardon Services Canada