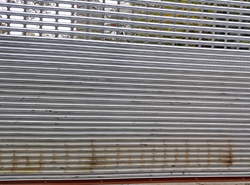 Rolling Gates, Rolling Grilles, Security Grille Gates, Fire Resistant Gate
Manhattan, NY (PRWEB) November 10, 2014
Rolling Gates NYC has today officially debuted new customized rolling gate and door models to help customers throughout the Big Apple safeguard their livelihoods.
Break-ins, vandalism, graffiti, looting – these terms are all too familiar to New York City business owners. They bring fear and a looming sense of loss and failure. However, there are solutions on the market that make it virtually impossible for thieves and vandals to damage a business owner's livelihood, and Rolling Gates NYC is the city's premier installer of high-quality, professional rolling gates for business protection. The company has announced important information for any business owner currently in the market for a new rolling gate in NYC.
Solid gates provide robust protection for shop windows, doors and other access points. However, they are susceptible to vandalism like graffiti.
Slotted or grille rolling gates in NYC are ideal for discouraging both break-ins and graffiti, as the open slots resist "tagging" and the solid metal construction provides robust strength.
"It's important for our clients to choose a custom solution for their rolling gate in NYC," stated the spokesman of the company. "Some clients will do better with a solid gate, but others will need the added benefit of a grille rolling gate. NYC businesses need solutions to the crime problem, and we're proud to be one of the most frequently recommended sources in the city."
Rolling Gates NYC is also proud to provide clients with other vital solutions, including locksmith services, commercial door repair, rolling gate maintenance, access control system installation and a great deal more.
To learn more about Rolling Gates NYC or for further information about choosing a rolling gate in NYC, visit http://www.RollingGatesNYC.com.
About Rolling Gates NYC: For New York City residents, only the best protection suffices. That is why Rolling Gates NYC provides only the best products and services. From new installation to repairs, licensed and insured Rolling Gates NYC provides safety. The company's mission is to deliver quality, professional installations, and provide the continuation of excellent gate performance for both residential and commercial installations. With years of experience and knowledge, Rolling Gates NYC has been recognized and praised by many New York businesses and management companies including Prada, Gap, Lacoste, Payless and Zara.