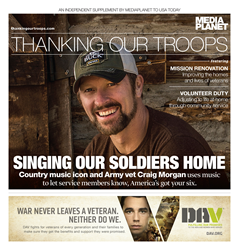 (PRWEB) November 07, 2014
Mediaplanet today announces distribution of the latest edition of "Thanking Our Troops," a cross-platform campaign that aims to honor and repay our country's brave soldiers for their innumerable selfless contributions. With active service members returning home on a daily basis, this campaign seeks to inspire readers to support the veteran military members who fought to protect our great nation.
The campaign features an exclusive interview with Army veteran and country music superstar Craig Morgan, who graces the cover of the print publication. He opened up with Mediaplanet about his time as an active service member and how he continues to support our nation's heroes. In an exclusive digital feature, American Idol alumnus Kellie Pickler shares what inspired her to support the troops with such vigor. She states, "You might not be able to hop on a plane and fly to Afghanistan, but everyone has the opportunity to say thank you and do their part. And no part is too small."
With over 20 percent of service men and women returning from combat battling Posttraumatic Stress Disorder (PTSD), "Thanking Our Troops" aims to educate readers on the struggles our veterans face when returning from battle and how we can ensure a smooth transition into civilian life. "As veterans return home and begin exchanging their uniforms for civilian clothes, it's imperative we do whatever we can to help ease their transition," explains Walter Tillman Director of Programs, Student Veterans of America in the campaign's foreword. He goes on to say, "The key to making that transition is finding your next mission. Veterans are starting to take up that charge and realize that leaving the military doesn't have to mean leaving the camaraderie behind."
The print component of "Thanking Our Troops" is distributed within this weekend's edition of USA Today in Cincinnati, Washington/Baltimore, Los Angeles, Houston, Phoenix, Chicago, Denver, Nashville and North Central Florida with a circulation of approximately 580,000 copies and an estimated readership of 1.8 million. The digital component is distributed nationally through a vast social media strategy and across a network of top news sites and partner outlets. To explore the digital version of the campaign, click here.
This campaign was made possible with the support of the Craig Morgan, Kellie Pickler, The Disabled American Veterans, The Mission Continues, U.S. Chamber of Commerce, Student Veterans of America, Sgt. Dakota Meyer, the Home Depot, University of Tampa and many more.
About Mediaplanet
Mediaplanet is the leading independent publisher of content-marketing campaigns covering a variety of topics and industries. We turn consumer interest into action by providing readers with motivational editorial, pairing it with relevant advertisers, and distributing it within top newspapers and online platforms around the world.