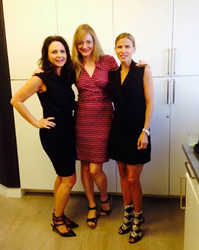 Los Angeles, CA (PRWEB) November 05, 2014
Doctors working with Paragon become "Paragon Affiliates." Physicians have access not only to traditional multiple laser technologies to offer combination laser treatments, but the latest innovative technologies that are introduced to the world of aesthetics. Paragon Aesthetics continuously evaluates new to market technologies developed by manufacturers to ensure their quality and results as well as provide first hand experience for education.
The Paragon Aesthetics experience includes a professional staff, advanced technology, white glove service, comfortable environment and secure Wi-Fi. Paragon Aesthetics offers flexible packages that allow doctors to pay only for the equipment and office space they need. The benefits for Paragon Affiliates include reduced overhead costs, incremental revenue, and increased patient retention rates.
The new office of Paragon Aesthetics is located in the heart of Beverly Hills on 9301 Wilshire Boulevard. The location offers iconic views of the surrounding hills and is equipped with the most cutting edge technology for laser surgical care. Physicians who become Paragon Affiliates will have private rooms reserved so their patient will have comfort, privacy, and a positive experience.
Paragon Aesthetics proudly hosts educational events to introduce new technologies as they are launched with live demonstrations. All Affiliates are invited to attend in this private setting. Limited space is available and attendance is on a first come first serve basis.
Harvard laser trained Dr. Lori Hobbs and Ms. Wendy Oseas, both who are experienced in aesthetics and well respected among their peers are the co-founders of Paragon Aesthetics. Ms. Oseas is also President of Aesthetic Professional Advisors (APA), and is the primary advisor for physicians when they are evaluating aesthetic devices. Ms. Oseas has over 16 years of experience in the industry and has helped a number of practitioners establish a foundation for sustainable and groundbreaking success. Dr. Hobbs is a Board Certified dermatologist who has been subspecializing in lasers for over 14 years.
For additional information about the technology offered at Paragon, physicians can contact the office at (310) 955-4012 or visit their website at http://www.paragonaesthetics.com/.