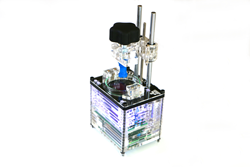 We didn't set out to improve 3D printing, we set out to remove the barriers to get 3D printers in the hands of everyone. Thats why we have created the worlds smallest, quietest and most affordable 3D Resin Printer
Melbourne, Florida (PRWEB) November 06, 2014
iBox Printers reaches $325k of funding in 19 days for the iBox Nano 3D Printer on crowd-funding site Kickstarter. Thats places the Nano as the 5th highest funded 3D printer on Kickstarter while having 9 days left to raise money. The iBox Nano is a 3D Resin Printer that is the worlds smallest, quietest, most affordable, and only battery powered 3D Resin Printer. Consumers will benefit from its portability, silent operation, and affordability while creating toys, jewelry, crafts and gifts; starting at just $189 for early adopters.
iBox Printers has invented a new 3D printing technology that has never been used before. The iBox Nano is a 3D Resin Printer, resin printers print using various technologies such as SLA (stereo lithography) which uses a laser [i.e. Form 1]. Other resin printers use a DLP projector. iBox Printers has invented a completely new and unique way to 3D Print using an LCD and UV-LEDs instead of a Laser or Projector, this allows for smaller packaging, completely silent operation, an order of magnitude reduction in power consumption, and most important a dramatic reduction in pricing. For example the Form 1 retails for $3300 and the iBox Nano retails for $299. 
Quote from founder [Trent Carter : Founder] "iBox feels this new technology will be another step to bringing 3D resin printers into the home. "
iBox Printers believes the iBox Nano will accelerate the adoption of 3D printers into the home market because of its affordability, silent operation, ease of use, small size, and cordless WiFi browser based printing. It also simplifies the user experience by allowing browser based printing from any client, including mobile devices, without installing software. The Nano is also a full Linux computer integrating a Raspberry Pi and has 8Gig of storage, 4x USB ports for mouse and keyboard and will drive an external monitor in 4K via its integrated HDMI port. The Nano is the worlds first 3D Printer that can also be used as a computer.
The iBox Nano is being crowd-funded on Kickstarter with pricing starting at $189 for early birds. Post Kickstarter the iBox Nano will be for sale on Amazon Prime and iBoxPrinters.com for $299 USD retail.
Kickstarter: https://www.kickstarter.com/projects/826799607/ibox-nano-worlds-smallest-least-expensive-3d-print
DropBox Press Collateral: https://www.dropbox.com/l/KnKFqoUxBQXQGCFKvTubco