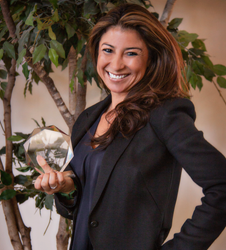 She is the best in her trade and an absolutely remarkable individual.
San Diego, CA (PRWEB) November 06, 2014
Bill Howe Plumbing in San Diego is a family-owned and operated full service company providing the best in San Diego plumbers since 1980. During their 34-year history, they have added three additional divisions alongside plumbing in San Diego. In 2007, they added HVAC services and in 2009, the restoration & flood remediation department. All three companies have been thriving under the banner of Bill Howe Family of Companies, and part of that success is the result of listening to customers and delivering the highest quality customer care in the industry.
Jessica Kalloch, Business Development Director for the Bill Howe Family of Companies was named as a finalist in the local San Diego Business Journal's (SDBJ) Award Event recognizing Women in Business. On November 5, 2014, she was officially announced as one of the winners in the 21st annual ceremony. Her success has added value to Bill Howe across divisions by creating a concierge style customer relationship for all account customers and has improved the overall customer service policies within the company. Because of her dedication and hard work, and the many improvements she has made to the company and industry, Jessica was among a prestigious group of San Diego women honored with the award at today's luncheon.
The Women Who Mean Business (WWMB) Award recognition event is one of the longest running events for women business leaders in San Diego and the country. Hosted by the SDBJ since 1993, the event recognizes women leaders in the community who have a proven record of success, not only in their careers, but also in philanthropic endeavors, mentorships and their personal lives. The event seeks to recognize these women, as well as promote the elevation and strengthening of women in the community. The 2014 event was emceed by Carol LeBeau and Susan Taylor, and major sponsors included Union Bank and Kaiser Permanente.
"We could not be more proud of Jessica," said Tina Howe, Vice President of the Bill Howe Family of Companies. "She has been such a big part of our success since coming on board in 2010. She is the best in her trade and an absolutely remarkable individual."
Jessica was nominated By Tina Howe and joins the ranks of WWMB winners and honorees at Bill Howe, alongside Tina herself and Operations Manager, Amber Baynard.
For more information about the Bill Howe's San Diego plumbers or other services offered, visit http://www.billhowe.com, or to speak with Bill or Tina Howe regarding this announcement, contact Bill Howe Marketing Director, Julie Riddle at Julie@billhowe.com.
About Bill Howe Family of Companies
Bill Howe Family of Companies is comprised of Bill Howe Plumbing, Inc.; Bill Howe Heating & Air Conditioning, Inc.; Bill Howe Restoration & Flood Services, Inc. The family-owned and operated company began in 1980 with the plumbing division and has grown into San Diego County's largest low-cost one-stop-shop for service, repairs and installation, offering both residential and commercial services. 9085 Aero Drive, Suite B, San Diego CA 92123. Call 1-800-BILL-HOWE because We Know Howe!
###