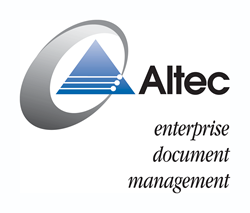 Altec is proud to be the endorsed document management solution provider for Sage 300 ERP
Laguna Hills, CA (PRWEB) November 06, 2014
Altec Products, Inc., a leader in enterprise document management and workflow solutions, announced today their involvement in the annual Sage Connect 2014 Customer and Partner Conferences to take place next week in Australia. The first Sage Connect customer event will take place at the InterContinental Melbourne Rialto on November 11th, the second will take place at the InterContinental Sydney on November 13th and the Sage Connect partner event will take place at the InterContinental Melbourne Rialto on November 14th and 15th.
The Sage Connect customer events in both Melbourne and Sydney consist of full days packed with keynote sessions and informative product information sessions on how to improve business performance. Attendees will learn to utilize this information to make sound decisions regarding their Sage products. The Sage Connect customer conferences will also feature the newest technology available for Sage software, Sage experts ready to answer questions, networking opportunities and the latest technology trends of 2015.
The Sage Connect partner conference is for accredited Sage business partners, providing them with two action-packed days: four product tracks, two evening networking events, guest speakers and a world-class business-building track make this event indispensable to partners. Altec is proud to be the endorsed document management solution provider for Sage 300 ERP and will sponsor the exhibitor networking function to take place on the opening night. At the function, attendees will hear a presentation on Sage ERP Document Management by Altec, a solution that eliminates a company's need to file documents in paper-heavy departments, reducing time wasted and money spent.
Executive Vice President of Sales Bill Brown commends the conferences: "The success with which Sage Connect unites Sage communities in Australia, New Zealand and the Pacific Islands is incredible. The events provide a rare opportunity to learn, socialize and discover exciting new opportunities to grow business. Altec is happy to play an important role in this growth for those who are interested in document management."
For more information about Sage Connect 2014, please visit http://www.sagebusiness.com.au/sage-connect-2014.
About Altec
Altec is a leading provider of Integrated Document Management (IDM) solutions to mid-market companies. For more than 25 years, Altec has provided a wide range of accounting-centric paper to paperless solutions including its flagship product, doc-link™ (Sage ERP Document Management), which enables companies to capture, archive, workflow and route structured and unstructured documents to customers, employees and vendors. Altec's comprehensive solutions include IDM, output management, MICR check disbursement and paper documents that serve more than 13,000 customers worldwide. Altec enjoys strong, collaborative partnerships with ERP solution providers like Sage Software to provide the most comprehensive, integrated enterprise document management solution. Altec delivers its IDM solutions through a global network of authorized partners in more than 60 countries throughout the Americas, EMEA and Asia Pacific. Visit Altec at http://www.altec-inc.com or call April Blankenship at 1-800-997-9921.
About Sage
Sage is a world-leading supplier of accounting and business management software to start-up, small, and midsized businesses. Our purpose is to help our customers run their businesses more effectively—helping them gain greater insight into their business activities and providing them with lasting benefits by automating their business processes. Our applications cover a wide range of business requirements, including accounting, customer relationship management, contact management, human resources, warehouse management, and specialized products for specific industries. Sage North America has more than 3.2 million customers with offices across the U.S. and Canada. Our corporate office is located in Irvine, California.
# # #