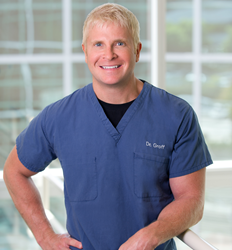 There are many anti-aging procedures available that can help solve skin problems and take a few years off the face and neck.
San Diego, CA (PRWEB) November 11, 2014
A recent article from the Huffington Post described five anti-aging tips to keep the skin and appearance youthful through middle age. Dr. William Groff, an expert dermatologist with Cosmetic Laser Dermatology in San Diego, comments on these tips and discusses further ways that middle-aged people can keep skin healthy and youthful. Along with eating well and making sure skin is hydrated, there are many options available that can help smooth existing wrinkles and reduce the appearance of hyperpigmentation, among other skin care woes.
"There are many anti-aging procedures available that can help solve skin problems and take a few years off the face and neck," explained Dr. Groff. "Modern technology has advanced to the point where wrinkles can be smoothed with a simple dermal filler procedure that takes less than thirty minutes. The appearance of age spots and sun damage can be reduced through advanced laser procedures. New innovations in anti-aging procedures are constantly being discovered and offered to patients."
One anti-aging tip the article mentions is to focus on enhancing the lashes, as thick, dark lashes can give the appearance of a brighter, more youthful eye area. In the past, the only means women with thin, light lashes had at their disposal was mascara or false lashes, but now there is a treatment available that can grow thick, dark lashes. Latisse is a proven effective prescription topical medication that can help women achieve the lashes they've always dreamed of but could never quite get with mascara alone.
"Latisse is extremely effective and very popular among women with sparse or light-colored lashes," said Dr. Groff. "All it takes is a daily application of the topical serum along the lash line, and new, thick, dark lashes will grow. It can even be used on the brow for women who over-plucked in the past and now have thin, sparse eyebrows. Long lashes are a great way to draw attention to the eyes."
The article also suggests using serums along with moisturizers to keep skin hydrated and help with cell turnover and collagen production. Serums are a good way to maintain hydration, but for existing fine lines and wrinkles, something stronger may be required. Dermal fillers such as Juvederm are able to smooth wrinkles and fine lines in a safe, effective, and quick procedure that is very popular among both men and women seeking a natural-looking rejuvenation. Laser procedures such as IPL or Fraxel are able to refresh the skin, boost collagen production, and diminish age spots. Skin tightening procedures also exist which tighten loose, sagging skin and stimulate the dermis to produce more collagen.
"The wide variety of anti-aging procedures available means that we can treat almost any kind of age-related skin problem non-surgically," said Dr. Groff. "While in the past a surgical facelift may have been the only means of achieving a younger-looking appearance, today there are plenty of non-invasive procedures available that will do the trick in a very natural-looking manner. It is important to maintain skin health through diet and lifestyle choices, but there are also ways to reduce already existing damage."
Dr. William F. Groff has been practicing dermatology in San Diego for more than fourteen years and is considered a leader and innovator in the field. Having given over 100 lectures in several countries across the globe, Dr. Groff has a passion for sharing knowledge with others in his profession to promote research and advanced treatment methods. With a unique knowledge of injectable treatments, Dr. Groff travels the country to serve as a key opinion leader and trainer for Allergan INC, the makers of Botox Cosmetic and Juvederm Voluma, as well as Medicis and Merz Pharm. At Cosmetic Laser Dermatology in San Diego, Dr. Groff helps patients achieve ideal cosmetic goals through custom treatment plans developed to address their exact needs.