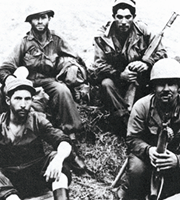 "The American Veterans Center (AVC) wants to give these heroes credit for making history."
Washington, DC (PRWEB) November 06, 2014
On November 8th, the American Veterans Center (AVC), which honors all who've served our country, will gather senior military and decorated heroes to award several distinguished U.S. veterans at a special ceremony. It's the first televised awards show saluting our military heroes from across the generations.
"We like to think 'The Honors' is like the Oscars for our military heroes," says James Roberts, President of the AVC, the organization that selects the honorees each year. "The American Veterans Center (AVC) wants to give these heroes credit for making history. We try to give them the red-carpet treatment they deserve."
For a complete list of the honorees for the 2014 American Veterans Center Honors, please visit http://www.americanveteranscenter.org/events/avchonors/.
The Honors, attended by past and present senior military officials, will salute some of America's greatest heroes from WWII to the present day, including:

Veterans of the 101st Airborne Division in WWII
LTC James "Maggie" Megellas, 97 years old and the most highly decorated officer in 82nd Airborne Division history.
Elinor Otto, nearly 95 years old and still working as a "Rosie the Riveter" at a C-17 plant.
"The Borinqueneers," the Puerto Rican unit noted for combat in the Korean War.
SFC Melvin Morris and Sgt. Dakota Meyer, recipients of the Medal of Honor.
SFC Joe Kapacziewski, the only Army Ranger to return to combat with a prosthetic.
Lt. Gen. Susan J. Helms, the first U.S. military woman in space, being recognized by veterans of the legendary Doolittle Raid of WWII.
The program will be broadcast on the Reelz network beginning on November 15, and vignettes introducing the honorees will be narrated by celebrities such as Pat Sajak, Gary Sinise, Joe Mantegna.
The honorees will accept their awards at the special Honors Gala just before Veterans Day on November 8th at 7:00pm at the Mayflower Renaissance Hotel, 11127 Connecticut Avenue NW Washington, D.C. 20001.
The Honors will include a very special closing toast to the surviving veterans of the Doolittle Raid of April 18, 1942. Only four of the 80 Raiders still survive, with two set to attend – Jimmy Doolittle's co-pilot, Lt. Col. Richard E. Cole and Engineer of Plane 15 Lt. Col. Edward Saylor.
Interviews with AVC leadership and veteran honorees are available at the event, upon prior request.
About the American Veterans Center: The American Veterans Center (AVC) is a 501(c)(3) non-profit educational foundation dedicated to preserving and promoting the legacy of our military personnel. The Veteran's Day events are held annually in Washington D.C. For more information, visit http://www.americanveteranscenter.org.
# # #