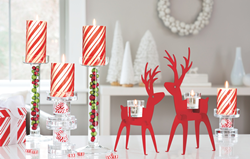 It's National Candle Month! And PartyLite, the world's number one candle party company, agrees that it's the perfect time to 'Light a Candle Every Night.'
Plymouth, Mass. (PRWEB) November 06, 2014
What's special about November? It's National Candle Month! And PartyLite, the world's number one candle party company, agrees that it's the perfect time to "Light a Candle Every Night."
"We think that's a great message!" says Rob Goergen, President of PartyLite Worldwide. "We're proud members of the National Candle Association, and that's their slogan for National Candle Month. During this wonderful season, we all decorate, entertain, exchange gifts and create memories. Candlelight makes those times even more special, and the very best candles make them truly magical."
Goergen noted that PartyLite candles are meticulously crafted in the United States and United Kingdom using premium ingredients from around the world. They're all stringently tested for exceptional performance and quality. What's more, PartyLite collaborates with the world's finest fragrance houses to develop its extraordinary candle scents.
Available in 21 countries, PartyLite candles are fast-becoming the candles of choice in homes around the globe. "You know, candles are a traditional part of nearly every culture," says Goergen. "The warm glow of candlelight needs no translation."
PartyLite has special things in store for candle lovers during National Candle Month:
Nov. 11 PartyLite Party Guest Special – Everyone attending a PartyLite Party on Nov 11, is eligible for a "doubled" Guest special: With every $50 purchase, PartyLite awards the opportunity to choose – not just one but two catalog items of any price at half price with every $50 purchase.
Weekly Facebook Giveaways – PartyLite is giving away some of its best-selling candles every week on its Facebook page. For a chance to receive free PartyLite candles, "Like" PartyLite on Facebook and watch for giveaways.
Special Offers for Candle Lovers – There are all kinds of special offers online and at Parties on candles, candle holders and accessories and other fragrant gift ideas at great savings!
Join PartyLite Preferred – the celebrated PartyLite customer loyalty program, PartyLite Preferred, is absolutely free to join. And candle lovers earn 20% credit on all purchases to use toward future online purchases of full-priced candles and candle holders. There also are exclusive offers for PartyLite Preferred members.
It's National Candle Month, and PartyLite invites candle lovers everywhere to celebrate the warm glow of candlelight with them.
About PartyLite
PartyLite is the world's #1 party plan company selling candles, candle holders, flameless fragrance and wax warmers as well as holiday and home décor in 22 countries through independent PartyLite business entrepreneurs. Since 1997, the PartyLite family of consultants, customers and employees has raised more than $14 million for the American Cancer Society and nearly $4 million for Children's Miracle Network. In 2014, PartyLite celebrates 41 years as the global leader in its category and 24 years as a member of the distinguished Blyth family of direct selling companies (NYSE:BTH). PartyLite is one of 53 Direct Selling Association member companies recognized during the 2014 annual meeting for participating in DSA's Code Communication Initiative, focusing on observing and communicating the DSA Code of Ethics as widely as possible. Based in Plymouth, Mass., PartyLite is a member of the Direct Selling Association and the Better Business Bureau. For more information, please visit http://www.partylite.com.