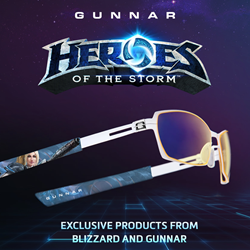 "We're pleased to be working with GUNNAR to bring Heroes of the Storm from players' computer screens out into the real world."
Carlsbad, CA (PRWEB) November 06, 2014
"GUNNAR is excited to partner with a worldwide gaming powerhouse like Blizzard," remarked GUNNAR CEO and co-founder Joe Croft. "We'll continue to push the envelope of technology, design and fashion while Blizzard continues to push the boundaries of interactive entertainment. We look forward to truly great things as we begin to ramp up this partnership."
"This collaboration is all about giving our players a fun new way to show their pride for their favorite Blizzard characters," said Paul Sams, chief operating officer of Blizzard Entertainment. "We're pleased to be working with GUNNAR to bring Heroes of the Storm from players' computer screens out into the real world."
The partnership will kick off at BlizzCon® 2014 with the release of the first set of Heroes of the Storm branded eyewear temple sleeves compatible with GUNNAR gaming eyewear. The initial releases will feature selected heroes from across the Blizzard game universes currently playable in Heroes of the Storm.
Additional releases are planned throughout 2014 and into 2015 and beyond with a brand-new line of eyewear to be released alongside Heroes of the Storm.
For more information on the current and upcoming product collaborations between GUNNAR and Blizzard, please visit gunnars.com/blizzard.
About GUNNAR
Founded in 2006, GUNNAR Optiks, LLC designs and engineers Computer Eyewear to protect and enhance vision using revolutionary technology solutions. GUNNAR introduced the Technology Eyewear category in 2008 and pioneered the only patented lens technology to reduce digital eye strain and fatigue issues associated with computer use. GUNNAR is a privately held company headquartered in Carlsbad, California. For more information, visit http://www.gunnars.com.
About Blizzard Entertainment
Best known for blockbuster hits including World of Warcraft® and the Warcraft®, StarCraft®, and Diablo® franchises, Blizzard Entertainment, Inc. (http://www.blizzard.com) is a premier developer and publisher of entertainment software renowned for creating some of the industry's most critically acclaimed games. Blizzard Entertainment's track record includes eighteen #1 games and multiple Game of the Year awards. The company's online-gaming service, Battle.net, is one of the largest in the world, with millions of active players.
Media Contact: | Dave Oshry | GUNNAR Optiks, LLC | pr(at)gunnars(dot)com