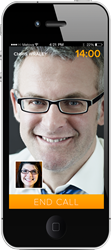 Don't Think Twice...Get On Demand Legal Advice
San Francisco, California (PRWEB) November 06, 2014
Available Now, Quicklegal, a California startup's new app, will allow instant access to reliable legal advice from attorneys across the nation, while giving attorneys the opportunity to work from virtually anywhere.
Once downloaded, users select the category and location they need legal advice in, enter billing information and are then instantly connected to a live attorney that specializes in that area of law. Users can video chat, audio call or privately message the attorney.
"At Quicklegal, we are revolutionizing the attorney-client relationship and means of communications," Co-Founder and CMO, Ruth Kolber said. "Being the first and only app to successfully provide on-demand legal advice, Quicklegal is going to change the legal industry as we know it."
Users of the app can connect with licensed attorneys via a 15-minute videoconference or standard call for $49, or they can submit a question to an attorney and receive a detailed, reliable answer within minutes for $29. This is the first app of its kind to offer video chat, the first to not charge users a membership fee, instead utilizing a pay-as-you-use method, and the first to complete thorough user review checks on attorneys, Kolber stated.
"On the backend of things, Quicklegal came up with a screening process to ensure consumers are being connected with attorneys who are licensed, reliable and knowledgeable," said Justin Lowenthal who serves as the companies General Counsel. "Attorneys will also be rated by users of the app and any attorneys with consecutive bad ratings will be removed."
Licensed attorneys in good standing can apply to Quicklegal to become a participating attorney, and receive a free 30-day trial when they signup. Attorneys are able to set their own availability, work anywhere with Internet connection and they make all of the consultation fees as participating attorneys at Quicklegal.
Quicklegal has launched in California and will begin to expand throughout the nation starting in December. The company has already made it on the cover of this months issue of the California Lawyer magazine. Quicklegal is available on the iTunes App Store and Google Play Market. Visit Quicklegal.com for more information.