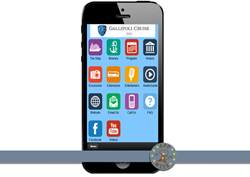 It's amazing how GC 2015 have really harnessed the power of mobile to service their customers."
(PRWEB) November 06, 2014
GC 2015 named as Infinite Monkeys' Mobile App Of The Week for October 26th - Nov. 1st. The recently published mobile app stands out amongst the thousands of iPhone apps, Android apps and HTML5 mobile websites created with the Infinite Monkeys app builder.
To create your own mobile app and have a chance at being named App Of The Week, go to http://www.InfiniteMonkeys.mobi and get started today.
About Infinite Monkeys
Infinite Monkeys is a self-serve, drag-and-drop platform that enables anyone to create a mobile app for iPhone, Android & HTML5 smartphones - without any coding. With three pricing options, from free to just $99, Infinite Monkeys brings custom mobile apps within the reach of small businesses, schools and community groups. By servicing the long-tail of niche interests with free and low-cost apps, Infinite Monkeys was named one of the Top10 Internet Startups of 2013 and aims to be the largest DIY publisher of mobile apps in the world.
Infinite Monkeys is also featured in a new video by blogger Harrison Lloyd showing 3 simple ways for anyone to create their own mobile app. http://bit.ly/1gKhwjK
To learn more about how Infinite Monkeys is transforming the Mobile App Economy, please visit http://www.infinitemonkeys.mobi and follow @oo_monkeys on Twitter.
About GC 2015
GC 2015 is an app created for the 100th Anniversary Cruise to Commemorate the ANZAC landing at Gallipoli. To honour this event, Gallipoli Cruise have chartered a ship which will embark on a 36 day cruise from Fremantle and be a part of a once in a lifetime journey and participate in the 100th anniversary of the Gallipoli landing.
GC 2015 is a new mobile app available for Android, iPhone and HTML5 compatible smartphones. It is the mobile presence of the GC 2015 website - and was created with the Infinite Monkeys mobile appmaker tool.
To download the GC 2015 app for your mobile phone, go to: http://apps.monk.ee/gc2015
To learn more about Gallipoli Cruise please visit: http://www.gallipolicruise2015.com.au/