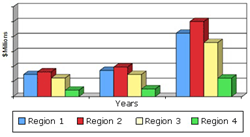 Global Market for Phase Change Materials to Reach $1.4 Billion in 2019
Wellesley, Mass. (PRWEB) November 06, 2014
BCC Research (http://www.bccresearch.com) reveals in its new report, PHASE CHANGE MATERIALS: TECHNOLOGIES AND GLOBAL MARKETS, the global phase change materials (PCM) market is expected to grow from $572.1 million in 2014 to $1.4 billion in 2019, with an estimated compound annual growth rate (CAGR) of 19.8% from 2014 through 2019. North America and the Asia-Pacific regions are expected to grow at 19.3% and 19.6% CAGR, respectively.
PCM products are seeing increasing demand in various applications, because there is a conscious effort across the globe to save energy as fossil fuels are quickly depleting due to indiscriminate use. The main driver for PCM products is the growing construction activities in the developing nations of China, India and Brazil.
The building and construction sector saw the largest demand for PCM products in 2013 at $119.7 million and is anticipated to be the largest market for PCMs in 2019 at $389.2 million. The demand for energy-efficient buildings and increasing construction activities in developing nations will drive the growth for PCM products.
"Europe is the largest market for PCMs, as the governments in European countries follow strict environmental norms, followed by the Asia-Pacific region," says BCC Research advanced materials analyst Tanmay Joshi. "The increased awareness in the Asia-Pacific nation about energy conservation and stringent government norms is expected to open up the market for PCM products in various applications."
PCMs or latent heat storage (LHS) materials are used for cooling and heating applications across industries such as construction, commercial refrigeration, textiles, heating, ventilation and air conditioning (HVAC) and so forth. These materials store and release large amounts of heat/energy to maintain constant temperature, thereby, conserving energy with increased use over a period of time.
PHASE CHANGE MATERIALS: TECHNOLOGIES AND GLOBAL MARKETS analyzes the global PCMs market in terms of growth, market size and opportunities with regard to applications, products and region. The report includes forecasted revenue through 2019. It also assesses the dynamics of such applications across geographies of North America, Europe, Asia-Pacific and the rest of the world.
Editors and reporters who wish to speak with the analyst should contact Steven Cumming at steven(dot)cumming(at)bccresearch(dot)com.
About BCC Research
BCC Research publishes market research reports that make organizations worldwide more profitable with intelligence that drives smart business decisions. These reports cover today's major industrial and technology sectors, including emerging markets. For more than 40 years, we have helped customers identify new market opportunities with accurate and reliable data and insight, including market sizing, forecasting, industry overviews, and identification of significant trends and key competitors. We partner with analysts who are experts in specific areas of industry and technology, providing unbiased measurements and assessments of global markets. Our clients include the top companies in industries around the world as well as universities, business schools, start-ups, consulting firms and investment companies. Visit our website at http://www.bccresearch.com. Contact us: (+1) 781-489-7301 (U.S. Eastern Time), or email information(at)bccresearch(dot)com.
Data and analysis extracted from this press release must be accompanied by a statement identifying BCC Research LLC, 49-2 Walnut Park, Wellesley, MA 02481, Telephone: (+1) 781-489-7301; Email: editor(at)bccresearch(dot)com as the source and publisher. Thank you.