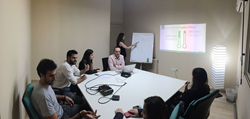 Difficulties faced in creating a sustainable market
(PRWEB) November 08, 2014
Despite all difficulties facing Lebanese start-ups in the tech sector, EGNYT defies all challenges and is launching on-demand organic food start-up Organic Lebanon, a first of its kind in the Middle East.
Difficulties Faced By Tech Companies In Lebanon
Lebanon is a country that is plagued with political instability, continuous wars and poor infrastructure. Yet, many Lebanese entrepreneurs have defied these obstacles especially in the fashion, retail and hospitality sectors where many businesses are thriving. The opposite holds true for entrepreneurs in the tech sector, which has been limited by several impediments, including:

The local ecosystem of venture capital is rather limited and monopolized. The availability of venture funds to be provided to possible startups in the country is managed by a mere number of three venture capital firms, posing a great challenge to accessing financial seed.
The political environment in Lebanon doesn't provide those well-to-do native entrepreneurs who ventured overseas a sense of safety so that they would return to their country and bring the expertise they developed abroad.
Beirut is the most expensive city in the Middle East, which means it's a city where even the opulent think twice before making a purchasing decision. Starting a business with a hefty investment inflated by high local costs is not a popular choice of career path.
Instead of putting important factors like business ideas, customer acquisitions and product development as the top priority, aspiring entrepreneurs face an initial roadblock of procedural fees of up to $8,000 for basic incorporation legal and accountancy fees.
Encouraging space for technology
There are attempts from the country's crippled policy makers in the form of two initiatives to encourage the tech space in Lebanon:
The first was initiated by the Ministry of Telecommunications, which against the odds lowered the cost of Internet access in 2014. While subscription fees were made more affordable, a bandwidth cap remained in place. Such an issue is more difficult to solve because it doesn't depend solely on the effort of the Ministry. It is a collective national problem whose responsibility is sprinkled across different government institutions.
The second initiative aims at improving startup's access to capital and was announced by the Central Bank of Lebanon in August 2013. The Central Bank instituted a new policy to decrease risk investments in startups made by banks that offered banks 75 percent capital guarantees on investments in startups. However, banks can only invest a total of 3 percent of their capital in startups. The drawback is that this initiative relies on willingness of the banks to join, and predictably not all of them did. Nonetheless, out of an estimated $400 million in aggregate capital available, $80million in venture capital funds have already been committed so far under this scheme.
Although a span of 1 year is not adequate to measure the effectiveness of these two initiatives, expecting that the two initiatives will clear all roadblocks is equivalent with expecting miracles.
Looking Back Yet Moving Forward
Such challenges aren't just impeding technological innovation, they are also hindering the adoption of ever-expanding supporting technologies. One visible instance is the availability of payment gateways for ecommerce. There are only three banks from which the merchants can seek support with incorporation of online payments, not to mention the prevailing technology to facilitate such an increasingly popular space like ecommerce is severely antiquated.
Some Game-Changers Are Emerging
Despite all obstacles, some daring startups have emerged. One of these companies is EGNYT, a digital marketing agency and technology incubator. EGNYT has contributed to the founding of Makhsoom, Lebanon's leading ecommerce retailer. Makhsoom has become a commercial success and a household name in the country.
"We took a huge risk when we started Makhsoom in 2010 as we embarked on unchartered territories," said Samir Chreim, president of EGNYT. "Our friends and family called us crazy! No Lebanese will date shop and pay online. It is not safe. Lebanese simply turn fearful when it comes to using their cards for online purchases."
"With a low advertising budget, thank to guerilla marketing techniques developed by the EGNYT Team, we were able to grow virally and defy Lebanon challenges and taboos."
Encouraged by the success of Makhsoom, EGNYT launches Organic Lebanon, which is first to deliver fresh organic fruits from local Lebanese farmers straight to customer's doorstep
Organic Lebanon
Organiclebanon.com aims at connecting consumers with local responsible farmers by sourcing the freshest and healthiest foods locally and will use refrigerated trucks to keep everything fresh door-to-door. Organic Lebanon gives Lebanese the opportunity to support local organic farms in a meaningful way. All products sold on the site will be 100% certified organic and are grown without synthetic pesticides, herbicides, and other harmful agricultural chemicals. Conventional food from traditional Lebanese farmer contains synthetic chemicals, which no matter how well it is washed, won't go away. Even chemicals that don't make it to the plate are still present in the atmosphere and the soil that the produce was grown in.
Knowing The Digital World You're In
Another key success factor that plays as the determinant for a successful startup is digital marketing know-how. That said, the country's digital agency market is categorized into two main segments, both of which are not necessarily good options for the average entrepreneur:
The first is big agencies that get accustomed to million-dollar contracts and stand to lose a lot by advising businesses to go digital. By comparison, a major national digital campaign can in no way exceed $100,000 with most of the cost going directly to major providers like Google and Facebook; in contrast, a low-budget TV campaign is $500,000.
The other option is the wide and varied community of freelancers both online and local, the majority of whom are relatively affordable. Yet, the problem with freelancers is consistency. They are known to be here today and gone tomorrow.
"I hired a freelancer to build my site last year," said Nada Khoury, owner of local SPA in Beirut. "She has left the country, and I lost the domain and my website as a result. Now, I don't know who to turn to."
The Whole Is Bigger Than The Sum Of Its Parts
For a country globally renowned for exporting well-to-do businessmen and entrepreneurs, reversing the destructive altruistic circle to promote the value-added technology sector will stand to benefit from daring entrepreneurial initiatives like the ones taken by EGNYT. But more initiatives are required such as subsidizing costs for startups, including legal, Internet access and energy cost.
Venture Capital funds Attribution, $80 million has been unveiled:
$30 million: http://www.berytech.org/content/view/1127/223/lang,en
$50 million: http://www.wamda.com/2014/03/mevp-50-million-fund-6-new-investments-lebanon
Daily Star: http://www.dailystar.com.lb/Business/Lebanon/2014/Mar-18/250550-venture-capital-firms-poised-for-new-initiative.ashx#axzz3IHXgpvIL