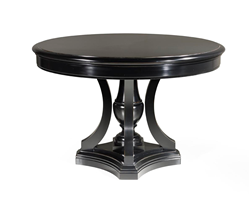 It's about having a piece of furniture that is custom-built specially and owning what is, in effect, a unique and beautiful piece which is a one-off.
(PRWEB UK) 7 November 2014
Specialising in traditional pieces, the London-based company offer their new selection of tables in a choice of woods ranging from French cherry and French oak, to American Walnut and Mahogany. Each table in the range - Regency, Pigalle, Fabrice and La Villette - is completely handcrafted in Oficina Inglesa's own workshop by their artisans.
The designs are influenced by traditional French styles such as Louis XV, Louis XVI, Directoire or Empire and are revisited for a modern day living.
Oficina Inglesa specialises in creating bespoke pieces of furniture and all items from their collection are made to order. The new tables are available with one or more extension leaves and will flexibly adapt to any occasion. Clients are welcome to commission any piece according to their requirements of size and design.
Director Eduardo Alves says: "Clients will always love the idea of bespoke furniture. It's not just about being able to choose a favourite wood, or to get the right size so that it's a perfect fit for the room. Rather, it's also about having a piece that is custom-built specially and owning what is, in effect, a unique and beautiful piece of furniture which is a one-off."
"And unlike modern factory-produced tables, the handmade furniture produced at Oficina Inglesa is built to last. This is thanks to the use of traditional techniques which have been passed on through generations of craftsmen."
Oficina Inglesa is based in Islington, London. Clients can schedule a visit in their showroom, where they are welcome to go through a range of materials and discuss their bespoke items with an in-house designer. For further information on their bespoke furniture, to take a look through the catalogue or to view recent projects visit http://www.oficinainglesa.com.