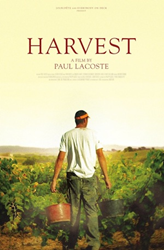 'Harvest' offers an unusual look at a precarious job between poverty and self-determination.
Bilbao, Spain (PRWEB UK) 10 November 2014
Harvest, by Paul Lacoste, shows a group of 20 grape pickers in the south of France. Both older and younger people face precarious contracts as seasonal workers. During the harvest, they endure heavy loads, heat waves and clipper-induced blisters and experience short-lived friendships.
The jury found Harvest to be a poignant and visually striking portrayal of these workers and their environment: '"There is no easy way of life", says one of the characters in this meaningful film which develops a carefully crafted narrative through a flowing storyline and a visual approach in unison with the landscape. The characters are treated with dignity and respect and beneath the small talk there are deeper stories to be told; sub-plots emerge, each one like a small fruit on the bunches of grapes they are picking. A special community is described through impressive images in the style of an impressionist painting, producing a complete film with strong detail — true to nature and true to its protagonists.'
Directors from all over the world submitted entries for the Healthy Workplaces Film Award. The eight nominated films brought a diverse range of themes to DOK Leipzig this year, including an almost phased-out car factory in Moscow, the demise of traditional family fishing practices in Spain and being a young person in today's employment market in France.
EU-OSHA proudly supports this award. The vibrant and evocative medium of documentary film allows the audience to engage in and gain insight into the OSH issues that people face worldwide. As part of the Agency's Healthy Workplaces Campaign, the award plays a central role in raising awareness of OSH issues by:

promoting safe and healthy workplaces in Europe
encouraging debate
stimulating film directors to create critical and thought-provoking films on workplace risks
increasing EU-OSHA's video and film library on OSH
EU-OSHA will produce 1,000 DVDs of Harvest, including subtitles in a selection of European languages, and the film will be shown at screening events throughout Europe, organised by EU-OSHA's network of national focal points.
Links:
Healthy Workplaces Film Award 2014 
Notes to editors
1. The European Agency for Safety and Health at Work (EU-OSHA) contributes to making Europe a safer, healthier and more productive place to work. The Agency researches, develops, and distributes reliable, balanced, and impartial safety and health information and organises pan-European awareness raising campaigns. Set up by the European Union in 1994 and based in Bilbao, Spain, the Agency brings together representatives from the European Commission, Member State governments, employers' and workers' organisations, as well as leading experts in each of the EU Member States and beyond.
2. The Healthy Workplaces Film Award honours the best documentary on work-related topics. The award is presented by EU-OSHA at the International Leipzig Festival for Documentary and Animated Film (DOK Leipzig).
DOK Leipzig is one of the most significant festivals for documentary and animated films in the world. It has hosted the Healthy Workplaces Film Award since 2009, which, supported by EU-OSHA, challenges film-makers to create documentary films that focus on the human being in a changing world of work.
The 2013 winner was C(us)todians by Brazilian Filmmaker Aly Muritiba, which depicts daily life in a Brazilian prison. In 2012 Chico Pereira of Spain received the award for his film Pablo's Winter, about a retired miner. The 2011 award was presented to German director Carmen Losmann for her film Work Hard Play Hard, an exploration of modern theories of work organisation and management. The 2010 prize winner was Czech director Tomas Kudrna for his film All that Glitters about working conditions in a goldmine in Kyrgyzstan. The first edition in 2009 was presented to Dutch director Ton Van Zantvoort for A Blooming Business which shows the painful working conditions in a globalised flower industry.
Now you can follow us on Twitter, visit the Agency's blog or subscribe to our monthly newsletter OSHmail. You can also register for regular news and information from EU-OSHA via RSS feeds. http://osha.europa.eu
Press inquiries

Birgit Müller - International press +34 944 358 359 | news(at)osha(dot)europa(dot)eu
Marta Urrutia - Spanish press +34 944 358 357 | noticias(at)osha(dot)europa(dot)eu
Brenda O'Brien - Brussels Liaison Office +32 2 401 68 59 | obrien(at)osha(dot)europa(dot)eu