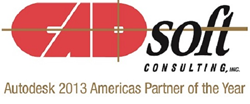 Tempe, AZ (PRWEB) November 07, 2014
CADsoft Consulting Inc., a premier provider of technical design and engineering solutions, and Autodesk 2013 Americas Partner of the Year hosted an Autodesk InfraWorks 360 road show across the southwestern U.S. with special guest presenters, James Wedding, P.E., Autodesk Sr. Technical Specialist and customer, Keith Warren, Sr. Program Manager, CALTROP The road show is took place on November 4th in Tucson, AZ, November 5th in Phoenix, AZ, and ending November 6th in Albuquerque, NM.
Infrastructure projects are being impacted by increasing project complexities, competition, and technology innovation. Many companies are addressing these challenges by examining workflow and technology choices to enhance their design process. James showed how Autodesk InfraWorks 360 and Vehicle Tracking are complimenting Autodesk Revit and AutoCAD Civil 3D workflows in order to:

Win more work
Expedite approvals
Quickly and easily explore design alternatives
Improve visualizations and stakeholder communication
Analyze and optimize your designs for best performance
In addition, Keith Warren of CALTROP shared the process of CIM (Civil Information Modeling) and how using advance design technology along with scanning they created a foundation for intelligent infrastructure design. Keith shared an example of using scanning into InfraWorks 360 to build accurate digital models of subsurface utilities for the city of Las Vegas.
More information can be found at http://www.cadsoft-consult.com.
About CADsoft Consulting
CADsoft Consulting's national team of consultants helps clients pursue innovative concepts for 3D digital design, Building Information Modeling (BIM), Project Lifecycle Management (PLM), Leadership in Energy and Environmental Design (LEED), and 3D design visualization. With over 23 years of industry, business, and technical expertise, CADsoft Consulting's unique services has been sought after by an impressive list of architectural firms, engineering companies, manufacturing and mining, government agencies, and academic institutions. CADsoft Consulting is an Autodesk Gold Partner with specializations in Building, Civil Infrastructure, Advanced MEP, Advanced Structure, Process & Power, and Government. In addition, CADsoft holds Autodesk Consulting and Product Support Specializations and is an Authorized Training Center (ATC). For more information, please visit our website: http://www.cadsoft-consult.com.
Autodesk, the Autodesk logo, ATC, InfraWorks 360, and Revit are registered trademarks or trademarks of Autodesk, Inc., and/or its subsidiaries and/or affiliates in the USA and/or other countries.