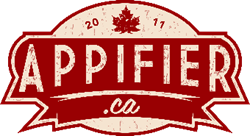 With this acquisition AppMakr is now the mobile voice of over a million small businesses and community groups in 100+ countries and 15 different languages.
Montreal, Quebec (PRWEB) November 06, 2014
AppMakr, the industry leader in Do-It-Yourself Mobile App building platforms announced today the purchase of Montreal-based competitor Appifier.
"As Canadian entrepreneurs ourselves, we're excited to integrate this proudly Canadian App Builder into our global network as the world's largest publisher of DIY Mobile Apps," said Jay Shapiro, co-founder and CEO of AppMakr.
With this acquisition AppMakr is now the mobile voice of over a million small businesses and community groups in 100+ countries and 15 different languages. The acquisition will allow Appifier to continue operating as a separate and competitive brand within the AppMakr umbrella.
"This particular acquisition is close to both my co-founder David Hoare and myself as we are both Canadian and want to ensure that we keep focused on growing this mobile platform for Canadian businesses offering it in both English and French," said Jay Shapiro.
Appifier enables Canadian small businesses, schools and community groups to build native mobile apps and mobile websites for their blog, business or event in under 60 minutes without writing a single line of code.
The company was founded in 2011 by Mike Gozzo and Steve Panetta and was backed by venture investments from BDC Capital and The National Research Council of Canada.
"We are delighted that the largest and most well-known company in mobile App platform development will be taking the reins from here on out. We believe that our customers will benefit from this acquisition and this will bolster the ability of Canadian small businesses to easily join the global app economy," said Mike Gozzo, co-founder of Appifier.
As part of the acquisition the Appifier website at http://www.theappifier.com is moving across to http://www.Appifier.ca and will introduce a new logo and launch substantial new features to its AppMaker platform including photo galleries, event calendars and live chat rooms. The entire app builder tool is also available in French as well as the existing English service. The extensive library of existing Appifier apps will continue to be supported via live chat from AppMakr's team of round-the-clock customer support agents.
This acquisition brings the entrepreneurial story of Jay Shapiro and David Hoare full circle. They met more than 25 years ago while students together at Earl Haig Secondary School in Toronto. The two then went on to travel the world with the Canadian tour of The Phantom of the Opera, which led to Jay Shapiro relocating to Singapore for 13 years. In 2010 they launched Infinite Monkeys, which morphed into AppMakr – with staff in more than a dozen countries around the world. The Appifier acquisition now brings the duo back "home" to Canada as the leading DIY mobile app builders for Canadian small businesses.
About Appifier.ca
Appifier is a leading Canadian DIY platform for small businesses, event organizers and bloggers to create native mobile apps with no coding. Founded in Montreal in 2011 by Mike Gozzo and Steve Panetta the company expanded into the United States in January 2014 through the Canadian Trade Commission's CTA (Canadian Technology Accelerator) program at Rocket Space in San Francisco. Appifier is now continuing this expansion as a part of the global AppMakr family, serving over a million app publishers in 100+ countries.
About AppMakr
Launched in January 2011, AppMakr is the world's leading DIY platform allowing non-developers to create sophisticated native iOS, Android and HTML5 mobile applications. The app maker tool has been used by the world's leading brands, including Newsweek, PBS, The PGA TOUR, National Geographic, Macworld, Harvard Business Review, Mac Life, as well as thousands of other brands to connect with their customers & fans through the mobile distribution channel. Applications created with AppMakr run on multiple mobile operating systems and devices, including iPhone, Android and all HTML5 compatible smartphone devices.