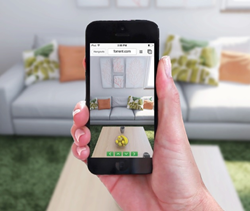 The advantageous InsideView was created so our customers could invite consumers to experience apartment units without making models available for all floor plans.
Norfolk, Va. (PRWEB) November 06, 2014
For Rent Media Solutions™ (FRMS), leading multifamily resource providing marketing solutions for property management companies across the country, is the first to offer this innovative web experience for customers nationwide. The InsideView™ feature from ForRent.com®, a panoramic walk through of a computer-generated 3-D model floor plan, will provide a more engaging and convenient experience for apartment shoppers, allowing them to take a virtual walkthrough right from their computer or mobile device.
As technology evolves, making static 2-D images obsolete, so does the way the multifamily industry markets apartments. The first to market online video for the multifamily industry, ForRent.com contains rich media, high-quality images and, beginning in December, self-navigated floor plans, all utilizing the latest mobile technology. With more than 3.3 million people visiting ForRent.com in September, apartment communities now have the option to engage their potential renters like never before.
"For Rent Media Solutions is committed to arming our customers with the most cutting-edge and innovative tools available," said Terry Slattery, president of For Rent Media Solutions. "The advantageous InsideView was created so our customers could invite consumers to experience apartment units without making models available for all floor plans. This comes right on the tail of announcing the Hero high-def home page video, and there is much more to come as For Rent Media Solutions continues to take steps to make sure our tools and products are full of rich media, meeting the demands of today's consumers."
Keeping a constant pulse on the multifamily industry, FRMS stays ahead of new trends and ideas that will increase traffic and leads for customers. For its multifamily properties, this new feature will greatly enhance their marketing strategies, improving the consumer experience by giving apartment shoppers a time-saving, visually appealing resource. InsideView, a mobile-centric product, is the next generation of virtual tours. The feature provides an expanded opportunity for consumers to put themselves in the apartment and get a feel for the space, size, etc., without ever having to visit a model unit. Thanks to its high-resolution media experience, InsideView gives apartment properties the ability to present their community in a new and unique way and does not require a model unit in these times of high occupancy rates.
View an example of the new InsideView feature and 3-D floor plans by visiting http://www.forrent.com/insideViewDemo.html. For more information on the future of apartment marketing from For Rent Media Solutions, visit bit.ly/FRMSWhatsNext or email InsideView(at)ForRent(dot)com
About For Rent Media Solutions™
Founded in 1982 as For Rent Magazine®, For Rent Media Solutions™ is headquartered in Norfolk, Virginia, and provides property managers and owners with diverse marketing and advertising products, services and education. These products are easy to use, easy to understand, and designed with renters in mind. For apartment shoppers, For Rent Media Solutions provides robust community listings in a multitude of media, including print, social, online, mobile, video and an extensive distribution network. For Rent Media Solutions publishes 80 magazines covering more than 80 markets nationwide, including AFTER55.com™ A Senior Housing and Care Resource, ForRent.com® Magazine and ForRent.com en Español Revista De Apartamentos. For Rent Media Solutions operates five websites: ForRent.com, AFTER55.com™, CorporateHousing.com®, ForRent.com en Español and ForRentUniversity.com™. Additionally, ForRent.com listings receive exclusive distribution to Homes.com® Rentals. Visit ForRent.com for more information, or visit us on Facebook, Twitter, Google+, YouTube and LinkedIn.
About ForRent.com®
As one of the nation's leading online home search destinations, ForRent.com® inspires renters to discover their next apartment, loft, townhouse, or condo. ForRent.com features rental listings in a user-friendly format, making finding your next home an easy exploration. Visitors to the ForRent.com blog will discover relevant information and can join the conversation surrounding home decorating style, apartment hunting tips and more. ForRent.com serves as the complete resource for renters in every part of their living experience.
Begin your apartment search today with ForRent.com, one of ForRent.com's mobile apps, ForRent.com Magazine or search ForRent.com on YouTube. For decor tips and more, visit ForRent.com/Blog.