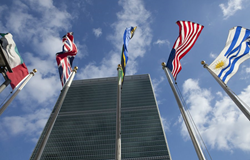 United Nations, NY (PRWEB) November 07, 2014
The name of the project at the UN was Capital Master Plan or CMP. The project spanned a timeline of five years with photos that are totally exclusive and historic. Luiz Rampelotto of Europa Newswire was the only photographer to document the project on a regular basis for the entire renovation and reconstruction of the United Nations Secretariat Building General Assembly Hall Security Council. The photo project that covers the renovations can be viewed http://newsphotos-us.photoshelter.com/search?I_DSC=cmp&I_DSC_AND=t&_ACT=search
The mission of the Office of the Capital Master Plan was to manage the historic renovation of the United Nations Headquarters Complex. The office was in charge of executing the renovations in a timely manner while keeping the project within budget. The CMP was also in charge of making sure the work environment was always safe and sustainable.
With a strategy approved by the General Assembly in 2007, the Capital Master Plan (CMP) project was to bring the Headquarters facilities into compliance with updated local building and fire safety codes. This included replacing deteriorating building components and systems while preserving the architectural integrity and original design of the building. The CMP also enabled the facilities to be operated in accordance with current principles of energy conservation, sustainability and efficiency. The purpose of the project was to create a secure, dignified, accessible and appropriate environment for delegates, staff and visitors.
Europa Newswire is an Editorial Image Licensing Agency that was established in September of 2004. Europa Newswire specializes in UN editorial images and holds one of the largest image libraries of The United Nations political events, in private hands. Images include Security Council meetings, General Assembly debates, Goodwill Ambassadors Appointments, and Secretary General high-level meetings.
Learn more by visiting http://newsphotos-us.photoshelter.com/gallery/Last-Days-of-the-UN-General-Assembly-Reconstruction-UN-September-12-2014/G00008TNNYX9qZo0/
CONTACT
Europa Newswire
Phone: 718 915 7197
Address: United Nations Secretariat
3rd Floor - S- 0303-B
New York, NY 10017