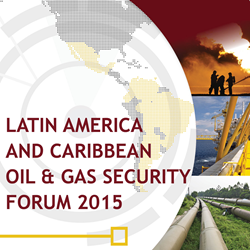 It's an IRN Summit!
London, UK (PRWEB UK) 6 November 2014
Latin America is estimated to hold a fifth of the world's oil, and several countries have made major strides to create a healthy investment climate and open up their potential to international companies in recent years, including Brazil, Colombia and Mexico. However, security is still a key issue for foreign and national companies in the region, and effective security planning is the key element for Latin America's huge oil and gas potential to be realised.
The Latin America and Caribbean Oil & Gas Security Forum, taking place on the 17th and 18th March 2015 in Bogota, Colombia, will address a range of issues including security planning for strikes, effective community engagement (especially when operating in indigenous territories), understanding the environmental impact of terrorist attacks and security planning for the post-conflict environment.
The Forum will be a senior level platform that will provide delegates with current case studies, highly informative panel discussions and cutting edge technology presentations relevant to the security concerns of the oil industry in Latin America and the Caribbean at present.
As a company, IRN has an established reputation for organising oil and gas security Summits, Workshops and Forums globally. The company's portfolio of industry leading events includes the 4th Middle East and Gulf Oil & Gas Security Summit, the 2nd West Africa Oil and Gas Security Summit, the 2nd CACOGS Forum and the East Africa Energy Infrastructure Security Forum. IRN will be also hosting an Ebola Risk Management Workshop in London in January 2015.
More information about this forum is available on the website: http://www.latamoilgassecurity.com.