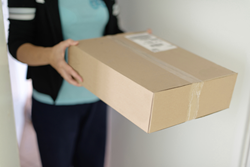 Atlanta, GA (PRWEB) November 07, 2014
AQuickDelivery, a recognized leader for same-day delivery, messenger and transportation services announces additional stop service requests. This service is offered in an effort to market a value-added service for additional customer delivery request within the same location and promote competitive pricing for multiple-stop deliveries. The Atlanta courier strives to be a one-stop courier of same-day logistic solutions within Atlanta and the Metro-Atlanta area.
Additional stop services or "add stops" consists of a delivery of one or multiple packages at the same destination point. Add stops are available for any customer within the Atlanta area requesting an additional stop within the initial courier order. Each add stop is an additional $5 to the original courier order price. AQuickDelivery will deliver the primary package to one location at the destination point and then deliver an additional package to the final recipient within the same location. This may include one or multiple additional deliveries to several personnel.
Customers can request additional stops via a phone order or online. For all online orders, comments requesting an add stop are left in the notes section. When placing an order over the phone, AQuickDelivery values its' customers and will always strive to save on their courier delivery costs, recommending add stops versus an entirely new order. As a result, its' clients receive the best pricing.
For complex additional stop requests, clients are recommended to call and contact customer support to ensure their request is performed correctly. AQuickDelivery can also wait for any package alterations and then have the package delivered to a final destination point at the same address as well. AQuickDelivery will continue to promote customer loyalty and create premium value-added services that meet their specific client needs.
AQuickDelivery is a premier same-day courier offering transportation and distribution services. From small packages to palletized freight, AQuickDelivery delivers fast. As a leader in the courier industry, its' goal is to perform optimal courier logistic solutions and superior customer service every time. The courier provides same-day delivery successfully for over 1,500 clients, including Fortune 500 companies throughout the Georgia area.