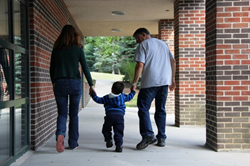 (PRWEB) November 06, 2014
Twelve years ago, one couple – a teacher and a nurse – decided that their love of children and helping others extended far beyond their professions. They decided to become foster parents. Westchester residents Gale and Joseph Thoma have since opened their home to four children in emergency situations – and are now in the process of adopting their fourth foster child, 3-year-old Matthew.
"It's the most rewarding thing you have ever done in your life," said Gale Thoma. "You can't even imagine."
November is National Adoption Month, and there are currently 73 children looking for a loving forever home in Westchester. Foster parents provide that critical first step, and the need for new foster parents is always great. Each year, Westchester County must find 40 new foster homes to care for local youth, especially teens, the medically fragile and sibling groups.
Thankfully, getting started is just a call away.
United Way's 2-1-1 helpline, along with Family Ties of Westchester and the Westchester County Department of Social Services (DSS), have joined forces to make finding good homes a top priority. And it all begins with a call to 2-1-1 to determine basic eligibility.
"I urge anyone interested in becoming a foster or adoptive parent to call 2-1-1 today," said County Executive Robert P. Astorino. "The need for good homes never goes away, and as any parent can attest, the rewards far outweigh the challenges."
After an initial screening, prospective foster and adoptive parents attend an orientation program facilitated by Family Ties of Westchester, a nonprofit that offers support services, education, and advocacy to families and children throughout the county. Family Ties, working with Westchester County DSS, helps to recruit, train, recommend for certification and support people interested in becoming foster or adoptive parents – like Gale and Joseph Thoma.
The Thoma family is now in the process of adopting Matthew, a 3-year-old born addicted to drugs and diagnosed with Down Syndrome. "I couldn't say no," Gale said, after DSS asked if they could foster Matthew. "I promised I would do the best I could. We lived in the hospital at first. But he has made great strides."
Those strides include literal ones. Once too weak and uncoordinated to stand, Matthew is now taking steps with the assistance of supportive leg braces. He still requires extensive therapies, and likely always will, but the Thoma's don't think twice about how hard of a road it's been.
"It's not hard work," Joseph said. "All you have to do is love them."
There currently are more than 200 children living in Westchester County foster homes. If you are interested in becoming a foster parent, adopting a foster teen, registering for an orientation session, or finding out more about the process, please call United Way's 2-1-1 by dialing 211. This free, confidential, multilingual helpline is available from 9 a.m. to 7 p.m., seven days a week.
About United Way of Westchester and Putnam:
For the past 52 years, United Way of Westchester and Putnam has operated with the fundamental belief that all people deserve a quality education, enough income to support a family, and opportunities for a healthy lifestyle. United Way works with agency partners, government, businesses and community leaders to solve problems that are too complex for any one entity alone. All contributions go toward improving the education, income, and health of the children, youth and families throughout Westchester and Putnam. United Way's Hudson Valley Region 2-1-1, covering Westchester and Putnam as well as Dutchess, Orange, Rockland, Sullivan and Ulster counties, answers up to 500 calls and 1,000 online inquiries per day ranging from tax, heating, and mortgage questions to childcare, basic needs, natural disaster and crisis calls. United Way of Westchester and Putnam is at 336 Central Park Ave., White Plains, NY 10606. They can be reached at 914-997-6700 or by visiting http://www.uwwp.org. Follow United Way on Facebook (http://www.facebook.com/UnitedWayWP) and Twitter (@UnitedWayWP) for the latest news and updates.
About Family Ties of Westchester:
Family Ties of Westchester is a grassroots organization that provides parent driven advocacy and support services to families of children with emotional and behavioral difficulties. Westchester County has a contract with Family Ties in collaboration with United Way 2-1-1 to recruit foster/adoptive homes; Family Ties provides all the training and certification of those foster/adoptive candidates. In addition, Family Ties has sites all over the county that provide FREE parent support groups parent skills training, advocacy efforts, and respite opportunities. Family Ties recognizes parents as full partners in planning for their children's treatment and services and helps empower them to take part in the decision-making process
About Westchester County Department of Social Services (DSS):
Westchester County DSS, under the leadership of County Executive Robert P. Astorino and Commissioner Kevin McGuire, supports the family unit and community in many ways with a comprehensive and accredited Child Welfare Division. DSS certifies foster and adoptive parents for children in foster care who need a loving home. The casework staff, pediatric clinic and a variety of partnerships with many other community agencies are the means to obtaining the necessary services for children in foster care. The Department makes provisions for financial support via room and board payments, medical services and special reimbursements.