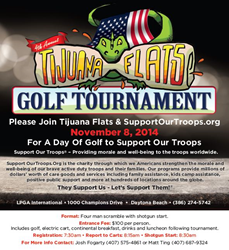 Port Orange, FL (PRWEB) November 06, 2014
Rue, Ziffra & Caldwell – a recognized personal-injury law firm based in Port Orange – is this year's main sponsor of the fundraiser, according to Josh Fogarty, owner of Tijuana Flats restaurant.
"Because of the generosity of businesses like Rue, Ziffra & Caldwell we are able to help Support Our Troops provide morale and well-being to active troops and their families," Fogarty said. "They have been the title sponsor for this event since its inception."
A 501(c) (3) public-purpose organization, Support Our Troops is the country's largest contributor to the active military; surpassing the U.S.O. The organization offers programs that provide millions of dollars' worth of goods and services to active-duty troops, including family assistance and kids camps.
Fogarty said presenting the event means a lot to him personally, as he has a brother serving in the Special Forces.
"We are eternally grateful for the support we receive and we hope to raise $20,000 this year from the 280 golfers who have registered," he said. In addition to the golfers, 55 volunteers also are scheduled to help out at the daylong event. "So far, we have 280 golfers registered to play including four Rue, Ziffra & Caldwell foursomes," he said.
Entry fee for the tournament – which includes an electric cart, continental breakfast, beverages and lunch – is $100 per person.
For more information about the tournament, which begins with registration at 7:30 a.m. and a shotgun start at 8:30 a.m., contact Fogarty at 407-575-4861. For details on contributing to the organization, visit SupportOurTroops.org, call 386-767-8882 or write to P.O. Box 70, Daytona Beach, FL 32115-0070.