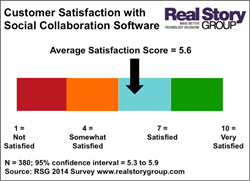 Enterprise employees express only middling satisfaction with social collaboration technology
Boston, MA (PRWEB) November 10, 2014
New research from analyst firm Real Story Group offers insights into practitioners' perspectives on key enterprise collaboration and social software themes, including common use cases, satisfaction with tools and vendors, implementation challenges, and the use of SharePoint.
Key Takeaways
Key takeaways from "Enterprise Collaboration and Social Technology Usage: Findings and Analysis" from Real Story Group's 2014 Industry Survey include:

Enterprise employees express only middling satisfaction with social collaboration technology
Traditional collaboration use cases display higher levels of maturity than newer social network-oriented business scenarios
On-premise installations remain the dominant deployment model today, but cloud-based architectures predominate future plans, albeit with somewhat less interest in migrating to Office 365 among SharePoint customers
Enterprises currently aren't exploiting the potential of mobile social networks effectively.
RSG surveyed eleven use cases, but only three (Project Collaboration, Knowledge Management, and Communities of Practice) saw 40% or more respondents rating their organizations as "very" or "reasonably" mature. Social-oriented use cases — such as Enterprise Social Networking and Social Q&A — lagged behind. Gamification proved to be the least deployed.
SharePoint customers continue to turn to external services for social networking. However, RSG found that 67% of SharePoint licensees don't use Microsoft's Yammer for collaboration (or only use it sparingly), relying instead on third-party tools.
With respect to mobility, RSG Senior Analyst Kashyap Kompella notes; "Mobile in the enterprise remains more about communication than collaboration. While almost all enterprises surveyed enable email on mobile devices, only 7% reported access to their enterprise social network."
Despite this middling satisfaction with the tools, technology isn't the primary obstacle to implementation — lack of executive support as well as poor user adoption remain the top-two obstacles cited by enterprise respondents.
A summary of the report findings can be found here.
About:
Real Story Group provides research and advisory services to help customers select and optimize the right digital workplace and marketing technologies. Through highly detailed technical evaluations, Real Story Group helps sort out the complex technology landscape, so that customs can minimize time and effort identifying the best-fit solutions. Real Story Group evaluates Web Content Management, Digital & Media Asset Management, ECM & Cloud File Sharing, Enterprise Collaboration & Social Software, Enterprise Mobile Technology, Portals and Content Integration, and Marketing Automation & Social Technologies.
To retain its independence as an impartial analyst firm, Real Story Group works solely for solutions buyers and never for vendors.