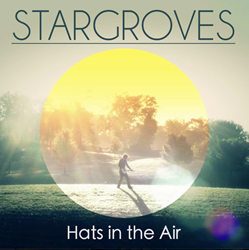 "Within Me a Lunatic Sings' plays like a Pinterest board of 00's indie rock greatest hits: Stars, Sigur Rós, and Freelance Whales are shot through the group's sound."— David Greenwald (MTV Buzzworthy)
New York, NY (PRWEB) November 11, 2014
It's not every day that a singer-songwriter willingly exiles himself in Iceland in the middle of winter, then returns home and creates music with an Academy Award nominee.
From his Reykjavík adventures to his duets with actress Abigail Breslin of Little Miss Sunshine, Stargroves front manTeddy Watson has lived out some remarkable experiences in recent years. Fortunately for listeners, the music of Stargroves is just as intriguing and unusual as their backstory.
MTV and Perez Hilton both agree that is a band worth watching. The acclaimed NYC-based band just released its self-titled debut album, which fans can purchase on iTunes and stream in its entirety on Soundcloud.
Stargroves reveals a sound that is earnest indie pop at its core but isn't afraid to incorporate unexpected elements. Tracks include the bouncy single "Hats in the Air" , as well as "Westfjords" and "Within Me a Lunatic Sings," both of which include vocals from Breslin, who earned an Oscar nomination as a 10-year-old for her Little Miss Sunshine performance.
The songs were written by Watson during a three-month visit to Iceland prompted by his love for the music of Sigur Rós, múm, and other Icelandic acts.
"I had been wanting to visit Reykjavík for a long time," Teddy explains. "When I was there in January, the sun would rise at 11:30 am and set by 3:30 pm." The darkness and isolation got his creative juices flowing, and he responded by composing his best songs yet.
Watson produced the new album, with engineering by Jeremy Sklarsky (Freelance Whales). Opening track "Untitled" begins with sparse, dreamy instrumentation that recalls Sigur Rós before branching out with a poppy beat, trance-like vocals, and a banjo lick that gives the song a quality unlike anything currently being heard on the radio. Similarly, "A Good Child Sings a Good Song" starts off as a delicate ballad but transforms into a joyous, captivating tune worthy of repeated listens. Other songs reveal touches of alt-rock, orchestral flourishes, and contemplative instrumental sections. Sometimes, as in the case of "Lost Like Sonic Youth Memorabilia," these elements all show up in the same track. Hints of Stars, Metric and Of Monsters and Men can be heard throughout the album.
Breslin shines on the up-tempo single "Westfjords" (check out the official lyric video!) She and Teddy harmonize nicely on the infectious duet, which reveals a sunny melody and lyrics about the legend of trolls and elves in the Iceland highlands.
"I've known Abbie and her family for a few years now," Watson reveals. "When I got back from Iceland, I asked Abbie if she would sing on a few songs. She accepted and we had a lot of fun recording them. Abbie is a delight to work with and we would love to have her accompany us further as the project moves forward!"
When not on location, Breslin has even performed shows with the band, which in addition to Watson includes Charlie Rauh (guitar, vocals), Bryan Percival (bass, vocals), Max Maples (drums), and Brad Whiteley (keyboard.)
If you haven't had a chance to see the guys perform in person, check out some of their live clips on YouTube. Watch a performance of "Within Me a Lunatic Sings" or multiple songs performed from a recent Rockwood Music Hall gig.
With critical support, a talented roster of musicians, and entertaining songs that stretch the traditional rules of pop music, Stargroves is clearly a band on the rise.
Listen to the music, share it with a friend, and come see Stargroves when they perform in your town!
Follow Stargroves on social media!
> Facebook
> Twitter
> Website
For any other information contact:
Evan Thompson
S T A R G R O V E S
One Central Park West, Suite 23A New York, NY 10023 evan@starrgroves.com 703.855.1290