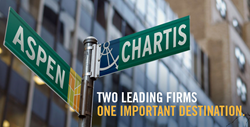 To continue to provide leading-edge healthcare advisory services, we must be able to bring our clients world-class capabilities in information technology and do so in a way that is powerfully integrated with their strategy... - Ken Graboys
Denver, CO (PRWEB) November 07, 2014
Aspen Advisors will be joining The Chartis Group to create a strategic healthcare consultancy unrivaled in its offering of comprehensive thought leadership and capabilities in strategic planning, accountable care, clinical transformation, and information technology. Aspen is a top KLAS-ranked IT advisory services firm that works with healthcare organizations across the country to enhance performance through the strategic and effective use of information technology. Chartis is a leading healthcare management consultancy that works with the nation's foremost providers on enterprise critical matters.
"The healthcare industry stands on the precipice of great change, and no dimension has the potential to be more transformative than information technology and applied analytics. To continue to provide leading-edge healthcare advisory services, we must be able to bring our clients world-class capabilities in information technology and do so in a way that is powerfully integrated with their strategy, their clinical delivery, and their evolving business model," said Ken Graboys, Managing Director and CEO of The Chartis Group. "And that is why we are so excited that Aspen Advisors will be joining The Chartis Group. Not only is Aspen the top healthcare IT consulting firm in the country, but our missions and cultures have extraordinary similarities. Both firms place the greatest primacy on thought leadership, and both are highly collaborative – with their clients and with each other."
Aspen was recently ranked #3 in the Modern Healthcare annual ranking of the top 100 employers in the healthcare industry. Chartis was ranked this year by Vault as one of the top five boutique consultancies across all industries and one of the top 15 consulting firms of any size across all industries.
"We have created a special firm that has brought together industry all-stars who are passionate about serving our clients and bring deep healthcare information technology, clinical, operational, change management, and consulting expertise – people dedicated to delivering measurable value to our clients and driving change in our industry," said Daniel Herman, Aspen Advisors Founder and Managing Principal. "Medical and information technology are catalysts for improving health status, providing access to services in cost effective settings, and demonstrating improved outcomes. We strongly believe that technology can no longer be seen merely as an enabler or business tool. It must be wholly integrated into the healthcare organization's business model and means of healthcare delivery. Partnering with a healthcare strategy firm became intriguing to Aspen leadership, and we began working collectively with The Chartis Group on several client engagements. In working together, it became clear that we had found an exceptional partner that shares our mission and our values with which to extend our capabilities and impact." Herman will serve on The Chartis Group Board of Directors and its Management Committee.
"This is not about becoming the biggest in the industry," added Graboys. "It is about providing our clients with the most thoughtful and impactful healthcare consulting services in the industry."
About Aspen Advisors
Aspen Advisors is a professional services firm with a rich mix of respected industry veterans and rising stars who are united by a commitment to excellence and ongoing dedication to healthcare. Aspen works with healthcare organizations to optimize the value of their information technology investments. Its experienced team is highly skilled in all aspects of healthcare technology. Established in 2006, the firm has earned accolades for its culture, service delivery, and growth. Aspen Advisors was named among the top 20 in Modern Healthcare's "Best Places to Work in Healthcare" in 2011, 2012, 2013, and 2014 and earned several honors from Consulting Magazine, including being named one of its "Best Firms to Work For" in 2012 and 2014 and one of the "2014 Seven Small Jewels." Aspen has consistently ranked highly in KLAS' "Best in KLAS Awards." In 2012 and 2013, Aspen was among the top three firms in KLAS' "Overall Services Firms Ranking." Learn more at http://www.aspenadvisors.net.
About The Chartis Group
The Chartis Group is a national advisory services firm dedicated to the healthcare industry. Chartis provides strategic planning, accountable care, clinical transformation, and information technology management consulting services to the country's leading healthcare providers. Chartis has been privileged to work with over two-thirds of the academic medical centers on the US News & World Report Honor Roll of Best Hospitals, four of the five largest not-for-profit health systems, eight of top ten children's hospitals, and many of the nation's emerging accountable care organizations. The firm is comprised of uniquely experienced senior healthcare professionals and consultants who apply a distinctive knowledge of healthcare economics, markets, clinical models, and technology to help clients achieve unequaled results. The Chartis Group has offices in Boston, Chicago, New York, and San Francisco. For more information, visit http://www.chartis.com.