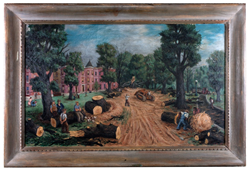 Baltimore, MD (PRWEB) November 06, 2014
The Maryland Historical Society proudly announces the opening of a new exhibition on Thursday, November 13, 2014 featuring the art of Jacob Glushakow (1914-2000). Glushakow painted the everyday of Baltimore, the people, the neighborhoods, the harbor, the markets and, perhaps most significantly, the vanishing urban landscape of the city. An opening reception will take place from 6-7:30 PM. All are encouraged to attend. To RSVP, call 410-685-3750 Ext 377.
About Jacob Glushakow
"Self Portrait," Jacob Glushakow, Jacob Glushakow Collection, Gift of Herbert and Naomi Denenberg, and Helen and Mildred Glushakow, MdHS, 2014-54,
The first child of Russian Jewish immigrants, Esther and Abraham Glushakow, Jacob entered the world at sea on the ship Bradenburg traveling from Bremen, Germany to Philadelphia. The family, after fleeing the beginning of World War I, settled in East Baltimore. Jacob graduated from City College in 1933 and attended the Maryland Institute of Art. Until the end of his life, he sketched and painted the city he loved. He described his powerfully rendered images to The Baltimore Sun as "emotion recollected in tranquility."
In his vivid compositions, often painted with electric turquoises, saturated oranges and rusty browns, Glushakow found importance in the humdrum, the noble in the quotidian. His eye transformed people sitting in a park, workman lounging at the harbor, even the interior of a tailor's shop resonate with visual significance. He made the common place scenes and objects of life tell stories. Today, his work provides a glimpse of a largely vanished Baltimore and reminds us that the urban landscape of the city changed profoundly throughout the twentieth century.
About Images of a Vanished Baltimore: The Art of Jacob Glushakow
In 2014, thanks to the generosity of the Glushakow family and Helen Glushakow in particular, the Maryland Historical Society received a gift of paintings, drawings and oil sketches by the artist. From touching family portraits to more jarring scenes of urban renewal at work, Glushakow's art explores the human experience with sensitivity, honesty, and sometimes, humor. On November 13, 2014, the Maryland Historical Society will open "Images of a Vanished Baltimore: The Art of Jacob Glushakow," exhibition which will highlight this important acquisition and celebrate the significance of this Baltimore artist's work.
"Jacob's dream was to have his paintings at the Maryland Historical Society," remarked Helen Glushakow, his sister. Glushakow's work intersects seamlessly with the museum's other 20th century holdings of paintings and photography. "This gift of Glushakow's paintings and drawings offers us so many opportunities to interpret life in twentieth-century Baltimore. His art provides glimpses of the everyday, but it tells big stories about this city's history. His work "puts the viewer on the ground" in this city as it looked in the 1940s, 50s, 60s, and 70s..." Alexandra Deutsch, the museum's Chief Curator observes. "Images of a Vanished Baltimore: The Art of Jacob Glushakow" will remain on view until March, 2015.
Contact: Laura Rodini lrodini(at)mdhs(dot)org 410-685-3750 Ext. 322