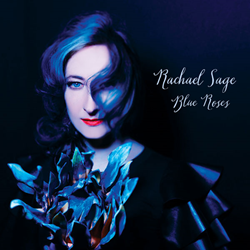 New York, NY (PRWEB) November 07, 2014
MPress Records' flagship artist Rachael Sage's 11th studio album Blue Roses is streaming exclusively at All Music Guide this week, and is available in stores and online now. The celebrated songstress has crafted what Curve Magazine calls "a treasure chest in a candlelit chamber, glimmering with myriad delights." Blue Roses is a collection of songs about the impact any single person can have upon the destiny of another. As She Magazine sums it up: "Blue Roses is a wonderful meditation on love and quirky destiny."
Produced by Sage with two-time Grammy® nominee John Shyloski (Stephen Kellogg, Johnny Winter), Blue Roses features 13 chamber-pop gems, supported by an impressive lineup of musical guests including legendary folk icon Judy Collins, drummer Quinn (Daft Punk), percussionist/singer Everett Bradley (Bruce Springsteen, Hall & Oates) and guitarists James Mastro (Garland Jeffries, Ian Hunter) and Jack Petruzelli (Patti Smith, Rufus Wainwright).
The theme of transformation recurs on several tracks, including the title cut "Blue Roses", which depicts an unusual relationship involving two would-be lovers who connect in a way that transforms them, even though they remain friends. On the song "Wax," featuring internationally renowned theremin player Armen Ra (Antony & The Johnsons), Sage muses bittersweetly over prior risks and current dangers of loving someone who seemingly can't commit.
Closing out the album is a cover of Neil Young's "Helpless" - re-imagined as a duet featuring folk icon Judy Collins and accompanied by Charleston alt-rock band A Fragile Tomorrow – in which Sage comes full circle, imbuing the classic anthem with a warmth that is entirely her own. This rendition of "Helpless" also appears on Judy Collins' Both Sides Now: The Very Best Of Judy Collins which also hit stores on November 4th.
For press inquiries or a copy of Blue Roses, give us a shout or visit our Media Page!
Melanie Rodriguez // melanie@mpressrecords.com // 212.481.7243
RACHAEL SAGE ON TOUR
Nov 12 New York, NY "Blue Roses" Listening Party & Rachael Sage Art Opening @ Think Gallery
Nov 15 Waukegan, IL Genesee Theater (w/ Judy Collins)
Nov 16 Santa Fe, NM The Lensic Theatre (w/ Judy Collins)
Nov 20 New York, NY Live In Your Living Room NYC Festival @ CitizenM Hotel Cloudbar
Nov 23 Boston, MA Club Passim
Dec 7 Pittsburgh, PA Garfield Artworks
2015
Jan 16 Chicago, IL City Winery (w/ Mary Fahl)
Jan 17 Milwaukee, WI Shank Hall (w/ Mary Fahl)
Feb 6 Binghamton, NY Bundy Museum
Apr 12 Alexandria, VA The Birchmere (w/ Shawn Colvin)