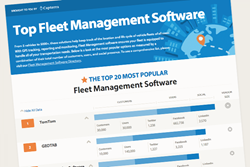 Fleets are massive assets that require diligent management, which is what makes Fleet Management Software such an important investment
Arlington, VA (PRWEB) November 06, 2014
Capterra, an online service that helps businesses find the right software, published new research in an infographic today: The Top 20 Most Popular Fleet Management Software Solutions. This study is part of a series of Top 20 research, and is the first to focus on the Fleet Management software sector. TomTom, GEOTAB, and ManagerPlus Software take the first 3 spots.
Fleet Management software helps organizations track and operate a stock of vehicles. A fleet management solution extends the life of vehicle fleets from acquisition to disposal by tracking maintenance needs and fuel consumption, in addition to keeping tabs on individual vehicle whereabouts using GPS.
"Anyone who owns a car recognizes the costs associated with it. From the cost of the car itself, to insurance and maintenance—not to mention the exorbitant cost of fuel--things can add up quickly. Now if you can imagine a company that manages and maintains an entire fleet of vehicles, you can multiply the expenses by tens, hundreds, and even thousands. Fleets are massive assets that require diligent management, which is what makes Fleet Management Software such an important investment," said Capterra CEO Mike Ortner. "The research in this infographic makes the information for 20 market leaders readily available to anyone either actively searching for a Fleet Management Software solution, or just looking to get a glimpse of which solutions have a major share of the market."
Capterra determines the rankings using its popularity index, which weighs and ranks number of customers, number of users, and social media presence to give each software solution a popularity score. Other recent additions to the Top 20 Software solutions series are research and infographics in the School Administration, Document Management, and Mental Health EHR industries.
To keep pace with the growing and changing role of software across industries, Capterra updates each of these infographics several times per year.
About Capterra: Capterra believes software makes the world a better place. Founded in 1999, Capterra has helped millions of people find the right software for their business-- all kinds of businesses—whether a multinational corporation, a school, a church, a doctor's office, a manufacturing company, or a zoo. Capterra works with thousands of software vendors to understand their products in order to match companies with the best software for their needs. Check out http://www.capterra.com to find software ratings, reviews, buying guides, and the most comprehensive list of business software products available.