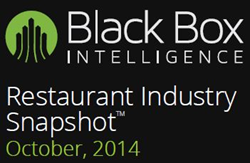 "2014 has become a good year for the restaurant industry when it comes to same-store sales" Victor Fernandez, Executive Director of Insight and Knowledge for TDn2K
Dallas, Texas (PRWEB) November 07, 2014
Restaurant industry performance improved once again during October, surpassing September's strong results, taking its place as the best month for the industry in almost three years. Additionally, for the first time since February 2012 the industry achieved positive growth in the vital same-store traffic indicator, underscoring the strength of October's performance. This insight comes from data reported by Black Box Intelligence (a TDn2K company) via The Restaurant Industry Snapshot for October; based on weekly sales from over 20,000 restaurant units representing over 45 billion dollars in annual revenue.
The improvement in traffic boosted the industry to its fourth consecutive month of positive same-store sales growth, also for the first time since the period ending in February 2012. Same-store sales growth was 2.8% during October, a 0.7% improvement from September. "2014 has become a good year for the restaurant industry when it comes to same-store sales," said Victor Fernandez, Executive Director of Insight and Knowledge for TDn2K, parent company of Black Box Intelligence and People Report. "Excluding January and February, when we experienced abysmal sales and traffic results due to the severe winter storms, we have posted positive same-store sales growth seven out of the eight months following February 2014. Growth rate was very tepid at the beginning of the year, but it has definitely picked up since mid-summer. In fact, rolling 3-month same-store sales growth was a healthy 2.2% during the period between August and October."
Same-store traffic growth was 0.4% during October, which represents a 0.6% increase compared with September. Traffic growth has now improved during three consecutive months and shows a trend line that suggests flat to positive growth for the rest of the year. "Since the end of the recession, the restaurant industry has struggled with a traffic problem, illustrated by the fact that there have only been four months of positive same-store traffic growth in the last three years; making October's results especially important. This is the first time since the beginning of 2012 that we are able to report sales growth backed up by an increasing number of guests, and not just propped up by price increases or sales mix shifts," continued Fernandez.
Another very positive sign for the industry is that improvements in same-store sales have been measured across the nation. During October, for the third consecutive month all eleven regions of the country posted positive same-store sales, while seven of these regions also achieved positive same-store traffic. This is a significant improvement over September when only three regions of the country achieved positive traffic growth. At the market level, the results are even more impressive: 177 of the 192 DMAs tracked by Black Box Intelligence reported positive same-store sales during October.
"As the economy continues to show signs of strength in the form of an improving labor market and rising incomes, gas prices continue to be favorable for additional consumer spending. In addition, the consumer's positive outlook persists (evidenced by October's 7 year high in the Conference Board's Consumer Confidence Index), and our expectations are for a strong end of the year, possibly the third consecutive quarter of positive same-store sales and perhaps the first quarter of positive same-store traffic since the end of the recession," commented Fernandez. "However, the deciding factor could once again be the weather, especially during December. Winter storms of 2013 had a very large impact on the industry's performance. As long as this year's weather conditions are not worse, the industry could be poised for some very good news to close the year."
Regarding the restaurant workforce, expectations continue to be for increasingly challenging conditions related to recruiting and retention. Turnover continued to creep up for both restaurant managers and hourly employees during September, according to People Report's latest published results. Meanwhile, recruiting difficulties continue to intensify as the industry keeps creating new jobs at an accelerated rate. Job growth was measured at a 3.3% year-over-year rate during September, which represents eleven consecutive months in which the number of restaurant employees has grown at a pace over 3.0% annually.