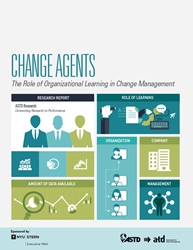 Alexandria, VA (PRWEB) November 06, 2014
Change initiatives rarely succeed despite the views of leadership that change is a driver of revenue growth, cost savings, and other improvements. Volatility in business makes change a frequent, and often difficult-to-anticipate workplace occurrence, and learning professionals have a role to play in helping change initiatives succeed, according to new research from the Association for Talent Development, (formerly ASTD). In the report, Change Agents: The Role of Organizational Learning in Change Management, ATD teamed with the Institute for Corporate Productivity (i4cp) to provide learning professionals with insight into practices most likely to make a positive difference in an organization's change-related capabilities.
The research shows that only 17 percent of those surveyed – 765 business and learning professionals from diverse industries – rated their organizations highly effective in managing change initiatives. The report stated, "If leaders and their workforce are to improve their change management capabilities, it will require relevant, innovative, and dynamic learning opportunities that keep pace with the shifting demands of organizational transformations." The learning function's expertise and involvement are needed to prepare executives and their workforces to manage change well.
Key findings from Change Agents: The Role of Organizational Learning in Change Management include:

Six out of 10 respondents said their companies face three or more major changes per year; one in four said the number is twice that. Forty-eight percent characterize the pace of change as faster and increasingly unpredictable.
Fewer than one in five business and learning professionals rate their organizations as highly effective in managing change.
Thirty percent of survey respondents said their organizations have change management teams, and twice that percentage hold CEOs accountable for change.
Revenue and sales, the economy, and cost savings were listed as top change-initiative motivators, according to survey participants.
More than half of the professionals surveyed said their learning functions rely primarily on internal resources to support change training, and about one in three use internal subject matter experts for insight into best practices.
Change Agents: The Role of Organizational Learning in Change Management is available on the ATD store.
About ATD
The Association for Talent Development (ATD), formerly ASTD, is the world's largest association dedicated to those who develop talent in organizations. These professionals help others achieve their full potential by improving their knowledge, skills, and abilities.
ATD's members come from more than 120 countries and work in public and private organizations in every industry sector.
ATD supports the work of professionals locally in more than 125 chapters, international strategic partners, and global member networks.