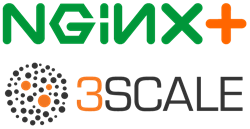 NGINX Plus provides the perfect complement to 3scale's API solution.
San Francisco, CA (PRWEB) November 06, 2014
3scale the leading API management platform, and Nginx, Inc. the high performance web acceleration company, today announced a promotion that bundles 3scale premium plans with the NGINX Plus commercial solution. Kicking off November 11th at AWS re:Invent, Amazon's cloud conference, the offer delivers all the proven benefits of 3scale's API Management Platform to secure and manage APIs, and NGINX Plus's value of controlling and securing sophisticated traffic flows as a gateway proxy. The combination of NGINX Plus with 3scale PRO for example will start at $5,500 – a discount of over 50% off list price. The offer kicks off November 11, 2014 at AWS re:Invent and will run through January 31, 2015. Visit Nginx at Booth #1042, and 3scale at Booth #531 for demos and details. More information can also be found at http://pages.3scale.net/better-together-api-management.html.
Combining 3scale and NGINX Plus for APIs provides the highest performing API gateway on the market - enabling API traffic management, filtering and distribution. The 3scale management layer enables full control of all keys, policies and users of the API while API gateways based on NGINX Plus enforce policies live within the traffic flow. NGINX Plus advanced features include enhanced control of data flow, dynamic configuration management, load balancing, session persistence, health checks, monitoring and support. The result is a unique full-stack bundle that provides more detailed insight into the health of an API program through extended monitoring features.
"Running APIs at scale requires the utmost in performance and stability," said Steve Willmott, CEO of 3scale. "This is why we work so closely with NGINX to produce the best performing API solutions out there. NGINX Plus ups that game again with more monitoring, hot configuration changes and much more."
"The explosive growth in demand for data—particularly from mobile devices—requires a trusted and proven solution for API traffic management," said Gus Robertson, CEO of Nginx. "NGINX Plus is well-known for its high performance, advanced feature set and low TCO. We provide the perfect complement to 3scale's API solution."
About 3scale
3scale provides a comprehensive API management platform that lets API providers easily package, distribute, manage and monetize APIs through a SaaS API infrastructure that is flexible, secure and Web scalable. The platform enables the distribution of a company's data, content or services to multiple devices or mobile/Web applications, as well as the ability to easily productize APIs. Since 2009 more than 400 APIs have been powered by 3scale. Customers span the Fortune 500, government, academia, and startups. 3scale customers include Coldwell Banker, Johnson Controls, SITA, Transport For London (TFL), UC Berkeley, Wine.com among others. For more information visit http://www.3scale.net
About Nginx Inc.
Based in San Francisco, Nginx, Inc. is the high performance web acceleration company, providing products, solutions and services for its renowned open source software, NGINX and its NGINX Plus commercial offering. Run by the busiest websites on the Internet, NGINX enables companies to match increasing demand for faster web experiences at scale.
Today NGINX serves more than 148 million sites on the Internet. Successful online services such as Netflix, Dropbox, Pinterest, Airbnb, WordPress.com, Box, Instagram, GitHub, SoundCloud, Zappos, and Yandex, use NGINX as part of their infrastructure. For more information about Nginx, Inc., please visit http://www.nginx.com.