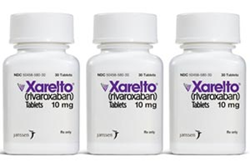 For a FREE Xarelto lawsuit case review, please contact Alonso Krangle LLP by calling 800-403-6191 or visiting www.fightforvictims.com
New York NY (PRWEB) November 06, 2014
Alonso Krangle LLP has launched a Xarelto lawsuit page to provide information on the Xarelto blood thinner medication that is manufactured by Germany-based Bayer AG and marketed in the United States by Janssen Pharmaceuticals Inc., a division of Johnson & Johnson. The new Xarelto page will feature the latest developments in the growing Xarelto litigation that is pending in various courts across the country. The Xarelto lawsuits are filed on behalf of patients who used the blood thinner and suffered severe internal bleeding and uncontrollable bleeding. The Xarelto complaints contend that Bayer AG and Janssen Pharmaceuticals failed to warn patients that there is no means to reverse the anticoagulation effects of Xarelto should significant bleeding occur in patients.
(In Re: Xarelto Products Liability Litigation, MDL No. 2592, JPML)
Alonso Krangle LLP is continuing its investigation into potential Xarelto side-effects bleeding complaints. If you or a loved believe they have suffered from Xarelto side-effects, such as uncontrollable bleeding, blood clots, stroke or death, contact our law office for a free legal consultation at 1-800-403-6191.
Xarelto was approved by the U.S. Food and Drug Administration (FDA) in July 2011 to reduce the risk of deep vein blood clots (deep vein thrombosis) and blood clots in the lung (pulmonary embolism) in patients who had knee or hip replacement surgery. In November 2011, the FDA expanded Xarelto's use to reduce stroke and blood clot risks in patients with irregular heart beats, or atrial fibrillation. One year later, the FDA approved Xarelto for treating deep vein thrombosis and pulmonary embolism.
[fda.gov/NewsEvents/Newsroom/PressAnnouncements/ucm326654.htm, November 2, 2012]
According to the FDA, Xarelto is one of three new oral anticoagulant drugs approved in recent years. The other new blood thinners are Pradaxa (dabigatran), and Eliquis (apixaban). Prior to the approval of the three new blood thinners, warfarin (Coumadin, Jantoven) had been the only anticoagulant used to prevent strokes in patients with atrial fibrillation. Warfarin received FDA approval in 1954. Although the three new blood thinners help in decreasing the rate of stroke, the FDA says they can also cause bleeding due to their anti-clotting effects. Unlike warfarin, the new blood thinners do not have a specific reversal agent should significant bleeding occur, according to the FDA. Warfarin has vitamin K as its antidote for severe bleeding.
[fda.gov/Drugs/NewsEvents/ucm405148.htm, July 17, 2014]
In the May 2014 issue of its QuarterWatch Report, the Institute of Safe Medication Practices (ISMP) reported that the number of complaints the FDA received about serious adverse events associated with Xarelto now outnumber the complaints filed for the competing blood thinner, Pradaxa. The ISMP, which monitors and analyzes serious adverse drug events reported to the FDA, found that there were 680 serious adverse event reports for Xarelto in the first quarter of 2013 compared to 528 complaints for Pradaxa. The ISMP suggests that the number of Xarelto complaints have increased now that more doctors are prescribing Xarelto to their patients rather than Pradaxa. The ISMP reported that outpatient prescriptions for Xarelto increased to nearly 1 million prescriptions per quarter while Pradaxa has steadily declined after reaching a peak in early 2012.
[ismp.org/quarterwatch/pdfs/2013Q1.pdf, May 7, 2014]
Reuters reported in June that the first Xarelto side-effects lawsuits against Bayer AG were being filed this year in the United States. Since the report, filing of Xarelto complaints are continuing and includes a wrongful death lawsuit filed in September by an Illinois woman on behalf of her deceased husband. According to the Xarelto complaint, the 82-year-old husband had undergone total knee replacement surgery when his primary care physician prescribed the blood thinner on February 11, 2013. The Xarelto complaint asserts that three days after the man took the first dose of the oral blood thinner, the man began to have severe health complications. According to the lawsuit, the man was admitted to the hospital for life-threatening bleeding on February 14, 2013. The lawsuit says that the bleeding developed from "an acute bilateral pulmonary embolism," which caused the man to sustain severe and permanent personal injuries, pain and suffering and emotional distress. According to the Xarelto complaint, the man died on February 23, 2013, allegedly due to the use of the blood thinner medication. The lawsuit was filed against Bayer and Janssen Pharmaceuticals on September 26, 2014, in the U.S. District Court, Southern District of Illinois. (3:14-cv-01042)
About Alonso Krangle LLP
Andres Alonso And David Krangle, Attorneys With Almost 40 Years Of Collective Legal Experience, Have Focused Their Law Practice On The Handling Of Significant Personal Injury Cases, Defective Drug And Medical Device Litigation, Construction Site Accidents, Nursing Home Abuse, Medical Negligence, Qui Tam/Whistleblower Actions And Consumer Fraud Cases. A Nationwide Law Firm Representing Injured Victims Throughout The U.S., Alonso Krangle Llp Is Headquartered In Long Island, New York, With Offices In New York City, And New Jersey. To Discuss Filing A Morcellator Lawsuit, Please Contact Alonso Krangle Llp At 1-800-403-6191 Or Visit Our Website, fightforvictims.com.
For More Information About Alonso Krangle LLP Or To Join The Fight And Be A Part Of Our Team, Please Contact Us At 1-800-403-6191 Or Visit Our Website, fightforvictims.com.